LED Light Bulbs - Silver Bowl
LED Light Bulbs | Silver Bowl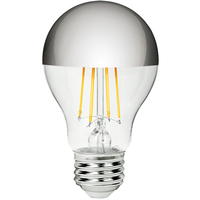 LED A19 Silver Bowl - 7.5 Watt - 60 Watt Equal
680 Lumens - 2700 Kelvin - Incandescent Match - 120 Volt - Green Creative 98358
Height: 4.17 in.
Diameter: 2.36 in.


LED A19 Silver Bowl - 5 Watt - 40 Watt Equal
400 Lumens - 2700 Kelvin - Incandescent Match - 120 Volt - Bulbrite 776671
Height: 4.1 in.
Diameter: 2.4 in.

LED A19 Silver Bowl Bulbs
Give your pendants a makeover by replacing incandescent bulbs with LED A19 silver bowl bulbs. Designed to resemble the look of antique lights, these bulbs feature a reflective silver coating on the top half of the bulb to redirect light back into the fixture for reduced glare. These bulbs have a standard A-shape that allows them to fit most fixtures. Compared to incandescents, LED A19 silver bowl bulbs use less energy and last longer. Sometimes referred to as half-chrome or silver dipped, these bulbs produce a warm 2700 Kelvin color temperature light that is color matched to incandescents.
Primarily used in pendant fixtures, LED A19 silver bowl bulbs can be used in multiple applications around your home or business. Provide warm lighting over tables in restaurants or cafes. Add accent lighting to lobbies or entryways to create a more welcoming feel.