Total String Length (Feet)
Hide
Bulb Spacing (Inches)
Hide
Amber-Orange - LED - Mini Lights - Christmas Strings

LED Christmas String Lights - 17 ft. - (50) Faceted Amber-Orange Mini Light LED's - 4 in. Bulb Spacing - Green Wire
Male and Female Plugs - 120 Volt - Christmas Lite Co. 41507R-PB24
Wire Gauge: 22 AWG
Wattage: 2.4 Watt
Lighted Length: 16.3 ft.
Case Quantity: 25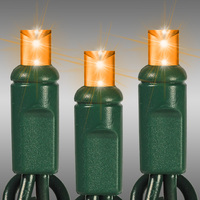 LED Christmas String Lights - 17 ft. - (50) Wide Angle Amber-Orange LED's - 4 in. Bulb Spacing - Green Wire
Male and Female Plugs - 120 Volt - Christmas Lite Co. 45507R-PB24
Wire Gauge: 22 AWG
Wattage: 2.4 Watt
Lighted Length: 16.3 ft.
Case Quantity: 24

LED Christmas String Lights - 25 ft. - (50) Multi-Directional Amber-Orange LED's - 6 in. Bulb Spacing - Green Wire
Male and Female Plugs - 120 Volt - Christmas Lite Co. 505R-6GOR
Wire Gauge: 22 AWG
Wattage: 2.4 Watt
Lighted Length: 23 ft.
Case Quantity: 25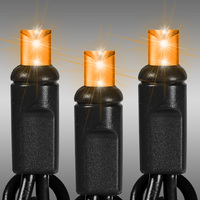 LED Christmas String Lights - 25 ft. - (50) Wide Angle Orange LED's - 6 in. Bulb Spacing - Black Wire
Male and Female Plugs - 120 Volt - Christmas Lite Co. 5MM50OF-B
Wire Gauge: 22 AWG
Wattage: 2.4 Watt
Lighted Length: 24.5 ft.
Case Quantity: 25

Amber-orange LED Christmas lights are more efficient than incandescent strings, with the lower wattage allowing you to connect more strands end to end to crate longer runs. Longer lasting, these lights are cool to the touch. Amber-orange LED string lights are constructed as a single molded piece in order to protect the sockets from dirt and water. While the bulbs cannot be replaced, the string will stay lit in the event that a bulb does goes out.
Bulb Shapes
Amber-orange LED holiday lights have several bulb shapes that provide different lighting effects. Featuring a curved design, shimmering spot bulbs produce a twinkling effect when the string gently swayed by the breeze. Wide angle bulbs have a concave tip, emitting all around light that is viewable from any direction. With a shape similar to incandescent strings, faceted traditional bulbs have a prismatic pattern etched into the cap to deliver a softer light.
Where to Use Amber-Orange LED Christmas Lights
Amber-orange LED string lights aren't just for Christmas. These lights can be used for any occasion including parties, graduations, and other events. Run amber-orange lights with a green wire across the top of your pergola or hang strings over your patio. Add frightening illumination to Halloween decorations by pairing amber-orange black wire LED holiday lights with green or purple LED string lights.