Total String Length (Feet)
Hide
Bulb Spacing (Inches)
Hide
Blue Christmas Mini Lights - LED

LED Christmas String Lights - 17 ft. - (50) Wide Angle Blue LED's - 4 in. Bulb Spacing - Green Wire
Male and Female Plugs - 120 Volt - Christmas Lite Co. 37-635-89
Wire Gauge: 22 AWG
Wattage: 4.8 Watt
Lighted Length: 16.3 ft.
Case Quantity: 24

LED Christmas String Lights - 25 ft. - (50) Wide Angle Blue LED's - 6 in. Bulb Spacing - Green Wire
Male and Female Plugs - 120 Volt - Christmas Lite Co. 37-635-89
Wire Gauge: 22 AWG
Wattage: 4.8 Watt
Lighted Length: 24.5 ft.
Case Quantity: 24

LED Christmas String Lights - 25 ft. - (50) Multi-Directional Blue LED's - 6 in. Bulb Spacing - Green Wire
Male and Female Plugs - 120 Volt - Christmas Lite Co. 10720
Wire Gauge: 22 AWG
Wattage: 4.8 Watt
Lighted Length: 24.5 ft.
Case Quantity: 25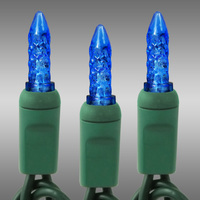 LED Christmas String Lights - 25 ft. - (50) Faceted Blue Mini Light LED's - 6 in. Bulb Spacing - Green Wire
Male and Female Plugs - 120 Volt - Christmas Lite Co. CMS-10053
Wire Gauge: 22 AWG
Wattage: 4.8 Watt
Lighted Length: 24.5 ft.
Case Quantity: 24

LED Christmas String Lights - 24 ft. - (70) Wide Angle Blue LED's - 4 in. Bulb Spacing - Green Wire
Male and Female Plugs - 120 Volt - Christmas Lite Co. 45611
Wire Gauge: 22 AWG
Wattage: 4.8 Watt
Lighted Length: 23 ft.
Case Quantity: 25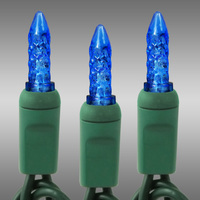 LED Christmas String Lights - 23 ft. - (70) Faceted Blue Mini Light LED's - 4 in. Bulb Spacing - Green Wire
Male and Female Plugs - 120 Volt - Christmas Lite Co. 41611
Wire Gauge: 22 AWG
Wattage: 4.8 Watt
Lighted Length: 23 ft.
Case Quantity: 25

Blue LED string lights outlast incandescent strings and use less energy. Cool to the touch when lit, the lower wattage of these strings allows for more end to end connections to create longer runs. In order to keep water and dirt from entering the sockets, our blue LED string lights are a single molded piece construction with non-replaceable bulbs. The string will stay lit if a bulb does go out, but you can repair around the failed bulb using LED testers and "PODs".
Bulb Shapes
There are several bulb shape options available for blue LED Christmas lights. Wide angle bulbs emit an all-around light that is viewable from any angle. Faceted traditional bulbs are similar in shape to traditional incandescent strings but have a prismatic pattern cut into the cap that softens the light output. Shimmering spot bulbs have a curved lens the makes that light appear to twinkle when viewed from different angles or rustled by wind.
Unconventional Places to Use Blue LED Christmas Lights
Blue Christmas lights are ideal any time of your for parties, events, or to decorate the baby's nursery. Hang a few strings in your storefront windows to show support for Autism Awareness Month or drape over curtains for fun accent lighting. Blue LED string lights with a green wire hide well in greenery such as garland, shrubs, and wreaths. Lights that have a white wire can be used to wrap columns or add beautiful lighting to weddings.
Having trouble figuring out how many strands of blue Christmas lights you need? Call 1-800-624-4488 today to speak with one of our lighting experts!