Christmas Light Mounting Stakes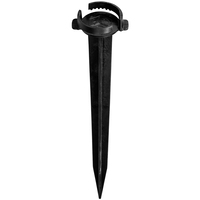 Christmas Lawn Stakes - 10 in. Tall
Holds C7 and C9 String Lights - For Sidewalks and Driveways - Pack of 10
Sold only by the 10 Pack for $18.72

Discount Available!
Christmas Light Mounting Stakes
Get your outdoor holiday decor in order with the perfect tool - Christmas light mounting stakes. Made of durable plastic, these stakes are designed to hold strings of Christmas lights securely in place along the ground, allowing you to create professional-looking displays with ease.
Whether you're using them to outline your driveway or walkway, or to create an eye-catching shape in your yard, these stakes are ideal for keeping your lights organized and looking their best. Plus, they offer the added benefit of preventing damage from windy or rainy conditions, ensuring your lights stay in place throughout the holiday season.
So why settle for a disorganized and lackluster display? Invest in Christmas light mounting stakes today and create a memorable atmosphere for your family and guests to enjoy.