Snow Blankets | Artificial Snow Flakes for Holidays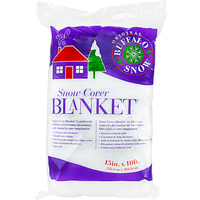 Snow Fluff Blanket
15 in. x 10 ft.
Length Ft: 10 ft.
Width: 15 in.
Snow Blankets | Artificial Snow Flakes for Holidays
Create a festive winter wonderland with our snow blankets and artificial snowflakes. Perfect for indoor use, these realistic snow products are an easy and mess-free way to enhance your holiday decor. Use them on mantels, tabletops, and under the Christmas tree to create a cozy and magical atmosphere for all to enjoy.
Our snow blankets and artificial snowflakes are ideal for holiday parties, winter weddings, and other special events. They offer a visually stunning addition to your winter decor and help create lasting memories for you and your loved ones.
Transform your home or business into a winter wonderland with our high-quality snow products. Shop our selection of snow blankets and artificial snowflakes today and take the first step in creating a magical and memorable winter season.