Cool White LED Christmas Lights

LED Christmas String Lights - 17 ft. - (50) Wide Angle Cool White LED's - 4 in. Bulb Spacing - Brown Wire
Male and Female Plugs - Rolled Contractor Pack - Case of 24 - 120 Volt - Christmas Lite Co. - CMS-50CW4B
Bulb Shape: 5mm Wide Angle
Wire Gauge: 22 AWG
Wattage: 4.8 Watt
Connection: Male to Female
Lighted Length: 16.67 ft.
Bulbs Per String: 50
Max. Connections: 40 Sets
Case Quantity: 24
Sold only by the Case of 24 for $223.30
CMS-50CW4B


LED Christmas String Lights - 17 ft. - (50) Wide Angle Cool White LED's - 4 in. Bulb Spacing - Green Wire
Male and Female Plugs - Rolled Contractor Pack - Case of 24 - 120 Volt - Christmas Lite Co. CMS-10075
Bulb Shape: 5mm Wide Angle
Wire Gauge: 22 AWG
Wattage: 4.8 Watt
Connection: Male to Female
Lighted Length: 16.67 ft.
Bulbs Per String: 50
Max. Connections: 45 sets
Case Quantity: 24
Sold only by the Case of 24 for $302.58
CMS-10075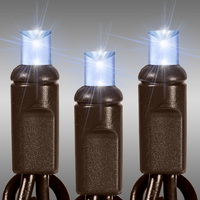 LED Christmas String Lights - 11 ft. - (50) Wide Angle Cool White LED's - 2.5 in. Bulb Spacing - Brown Wire
Male and Female Plugs - 120 Volt - Christmas Lite Co. 50L-5MM-2.5BRCW
Wire Gauge: 22 AWG
Wattage: 4.8 Watt
Lighted Length: 10.5 ft.
Case Quantity: 24

LED Christmas String Lights - 26 ft. - (50) Wide Angle Cool White LED's - 6 in. Bulb Spacing - Green Wire
Male and Female Plugs - Rolled Contractor Pack - Case of 24 - 120 Volt - Christmas Lite Co. NG-B50-6GCW
Bulb Shape: 5mm Wide Angle
Wire Gauge: 22 AWG
Wattage: 4.8 Watt
Connection: Male to Female
Lighted Length: 25 ft.
Bulbs Per String: 50
Max. Connections: 45 sets
Case Quantity: 24
Sold only by the Case of 24 for $332.74
CMS-10080


LED Christmas String Lights - 17 ft. - (50) Wide Angle Cool White LED's - 4 in. Bulb Spacing - Brown Wire
Male and Female Plugs - 120 Volt - Christmas Lite Co. 50L-5MM-4BRCW
Wire Gauge: 22 AWG
Wattage: 4.8 Watt
Lighted Length: 16.67 ft.
Case Quantity: 24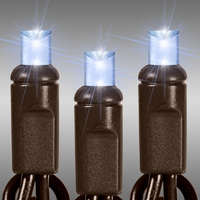 LED Twinkle Christmas String Lights - 26 ft. - (50) Wide Angle Cool White LED's - 6 in. Bulb Spacing - Brown Wire
Male and Female Plugs - 120 Volt - Christmas Lite Co. 50L-5MM-6TWK-BRCW
Wire Gauge: 22 AWG
Wattage: 4.8 Watt
Lighted Length: 25 ft.
Case Quantity: 24

LED Christmas String Lights - 26 ft. - (50) Wide Angle Cool White LED's - 6 in. Bulb Spacing - Brown Wire
Male and Female Plugs - Rolled Contractor Pack - Case of 24 - 120 Volt - Christmas Lite Co. - CMS-50CW6B
Bulb Shape: 5mm Wide Angle
Wire Gauge: 22 AWG
Wattage: 4.8 Watt
Connection: Male to Female
Lighted Length: 25 ft.
Bulbs Per String: 50
Max. Connections: 40 Sets
Case Quantity: 24
Sold only by the Case of 24 for $347.14
CMS-50CW6B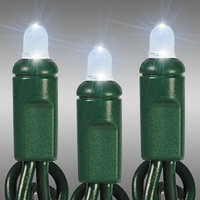 LED Christmas String Lights - 26 ft. - (50) Multi-Directional Winter White LED's - 6 in. Bulb Spacing - Green Wire
Male and Female Plugs - 120 Volt - Christmas Lite Co. 10482
Wire Gauge: 22 AWG
Wattage: 4.8 Watt
Lighted Length: 25 ft.
Case Quantity: 25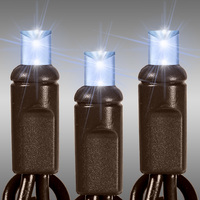 LED Christmas String Lights - 17 ft. - (50) Wide Angle Twinkle Cool White LED's - 4 in. Bulb Spacing - Brown Wire
Male and Female Plugs - 120 Volt - Christmas Lite Co. 50WA-4TWK-BCW
Wire Gauge: 22 AWG
Wattage: 4.8 Watt
Lighted Length: 16.66 ft.
Case Quantity: 25


LED Twinkle Christmas String Lights - 26 ft. - (50) Wide Angle Cool White LED's - 6 in. Bulb Spacing - Brown Wire
Male and Female Plugs - Rolled Contractor Pack - Case of 24 - 120 Volt - Christmas Lite Co. NG-B50-6BCWT
Bulb Shape: 5mm Wide Angle
Wire Gauge: 22 AWG
Wattage: 4.8 Watt
Connection: Male to Female
Lighted Length: 25 ft.
Bulbs Per String: 50
Max. Connections: 45 sets
Case Quantity: 24
Sold only by the Case of 24 for $364.58
CMS-10030

LED Christmas String Lights - 25 ft. - (50) Faceted Cool White Mini Light LED's - 6 in. Bulb Spacing - Green Wire
Male and Female Plugs - 120 Volt - Christmas Lite Co. 50M5-6GCW
Wire Gauge: 22 AWG
Wattage: 4.8 Watt
Lighted Length: 24.5 ft.
Case Quantity: 24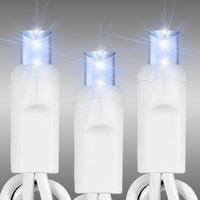 LED Christmas String Lights - 24 ft. - (70) Wide Angle Cool White LED's - 4 in. Bulb Spacing - White Wire
Male and Female Plugs - 120 Volt - Christmas Lite Co. 45643R-B
Wire Gauge: 22 AWG
Wattage: 4.8 Watt
Lighted Length: 23 ft.
Case Quantity: 25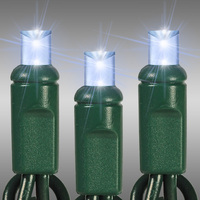 LED Christmas String Lights - 25 ft. - (50) Wide Angle Cool White LED's - 6 in. Bulb Spacing - Green Wire
Male and Female Plugs - 120 Volt - Christmas Lite Co. 50WA-6GCW
Wire Gauge: 22 AWG
Wattage: 4.8 Watt
Lighted Length: 24.5 ft.
Case Quantity: 24
Cool White LED Christmas Strings
Make your displays stand out by using LED cool white Christmas lights. These lights produce a crisp while light that is brighter than warm white LED Christmas lights and incandescent Christmas lights. Operating more efficiently than incandescent strings, cool white Christmas lights last longer so you spend more time decorating and less time replacing burnt out strings. The lower wattage allows for more end to end connections for creating longer runs. If you are setting up a large commercial display, look for professional installer packs with 24 sets of individually rolled lights. Cool white LED Christmas lights are designed as a sealed single molded piece construction to keep dirt and water out of the sockets. While the bulbs cannot be replaced, if a bulb does happen to go out the string will stay lit.
Bulb Shapes
For different lighting effects, cool white Christmas lights have several bulb shape options. Faceted traditional shapes bulbs are shaped similarly to mini incandescent lights, but have a prismatic pattern cut into the lens for a more diffused light. The original LED mini light shape, shimmering spot bulbs have a convex design that makes the light appear to twinkle when the string moves. Wide angle bulbs have a conical lens that distributes the light in all directions, so the light can be seen from any angle.
Where Can I Use LED Cool White Christmas Lights?
No matter what time of year it is, cool white LED Christmas lights can be used to light up parties and events. If you plan on wrapping tree trunks or posts, pick cool white Christmas lights with a brown wire. These lights blend in better on wood and are not as noticeable during the day. Cool white lights with a green wire are ideal for hiding in wreaths, trees, and garlands. White wire cool white LED Christmas lights can be used to decorate for weddings. Wrap these lights around columns or drape them from ceilings with tulle or fabric.