Extension Cords - Power Cords - Electrical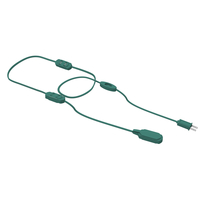 Indoor Extension Cord - 9 Grounded Outlet
9 ft. Cord Length - 5 Amp - 625 Watt Maximum - Green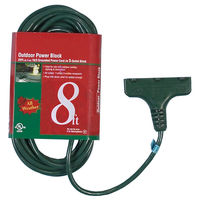 Outdoor Extension Cord - 3 Grounded Outlets
8 ft. Cord Length - 13 Amp - 1875 Watt Maximum - Green

Choose from indoor ungrounded to heavy-duty grounded, 5 Amp to 15 Amp options for your extension cord needs. Enjoy a single extension cord for use in for multiple outlets, energy efficiency, consistent performance, and protection against shock with safety covers. Some extension cords offer more accessible functionality with ON/OFF toggle switches.
Extensions are useful for extending the range of electrical power to well beyond the length of the original power cord. Some extension cords a rated for indoor use only and should be used as such and others are rated safe for outdoor use. Be sure to consider the intended use of the extension cord before you purchase.
You should also consider the length of the cord. Plugging multiple shorter extension cords into each other can be dangerous so if you are unsure what length to purchase, longer is usually better. You can call 1-800-624-4488 for help finding the right length.
When selecting an extension cord, the equipment that will be plugged into it should be a main consideration. Heavy-duty extension cords are able to handle big power tools, mowers, and even extensive lighting setups. Light-duty extension cords are useful for lamps, fans, and other household electronics.