Total String Length (Feet)
Hide
Bulb Spacing (Inches)
Hide
LED Green Christmas Mini Lights Strings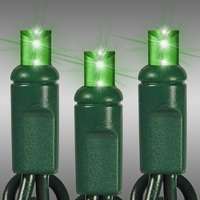 LED Christmas String Lights - 17 ft. - (50) Wide Angle Green LED's - 4 in. Bulb Spacing - Green Wire
Male and Female Plugs - 120 Volt - Christmas Lite Co. 45514R-PB24
Wire Gauge: 22 AWG
Wattage: 4.8 Watt
Lighted Length: 16.3 ft.
Case Quantity: 24

LED Christmas String Lights - 26 ft. - (50) Wide Angle Green LED's - 6 in. Bulb Spacing - Green Wire
Male and Female Plugs - Rolled Contractor Pack - Case of 24 - 120 Volt - Christmas Lite CMS-10081
Bulb Shape: 5mm Wide Angle
Wire Gauge: 22 AWG
Wattage: 4.8 Watt
Connection: Male to Female
Lighted Length: 25 ft.
Bulbs Per String: 50
Max. Connections: 40 Sets
Case Quantity: 24
Sold only by the Case of 24 for $332.74
CMS-10081


LED Christmas String Lights - 26 ft. - (50) Wide Angle Green LED's - 6 in. Bulb Spacing - Brown Wire
Male and Female Plugs - Rolled Contractor Pack - Case of 24 - 120 Volt - Christmas Lite Co. NG-B50-6BG
Bulb Shape: 5mm Wide Angle
Wire Gauge: 22 AWG
Wattage: 4.8 Watt
Connection: Male to Female
Lighted Length: 25 ft.
Bulbs Per String: 50
Max. Connections: 40 Sets
Case Quantity: 24
Sold only by the Case of 24 for $332.74
CMS-10028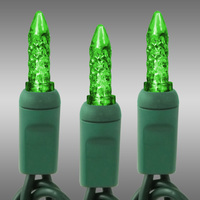 LED Christmas String Lights - 17 ft. - (50) Faceted Green Mini Light LED's - 4 in. Bulb Spacing - Green Wire
Male and Female Plugs - 120 Volt - Christmas Lite Co. 41514R-PB24
Wire Gauge: 22 AWG
Wattage: 4.8 Watt
Lighted Length: 16.3 ft.
Case Quantity: 25


LED Christmas String Lights - 25 ft. - (50) Wide Angle Green LED's - 6 in. Bulb Spacing - Green Wire
Male and Female Plugs - 120 Volt - Christmas Lite Co. 37-636-89
Wire Gauge: 22 AWG
Wattage: 4.8 Watt
Lighted Length: 24.5 ft.
Case Quantity: 24

LED Christmas String Lights - 25 ft. - (50) Multi-Directional Green LED's - 6 in. Bulb Spacing - Green Wire
Male and Female Plugs - 120 Volt - Christmas Lite Co. 50CV-GRG
Wire Gauge: 22 AWG
Wattage: 4.8 Watt
Lighted Length: 24.5 ft.
Case Quantity: 24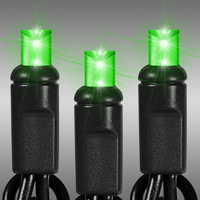 25 ft. LED String Lights - (50) Wide Angle LEDs - Lime Green Frost - 6 in. Bulb Spacing - Black Wire
Omni-Directional - Commercial Duty - 45 Set Max. Connection - Male to Female Connection - 120 Volt - Christmas Lite Co. 5MM50LF-B
Wire Gauge: 22 AWG
Wattage: 4.8 Watt
Lighted Length: 24.5 ft.
Case Quantity: 25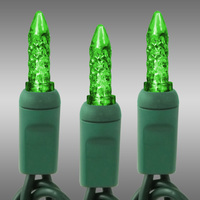 LED Christmas String Lights - 25 ft. - (50) Faceted Green Mini LED's - 6 in. Bulb Spacing - Green Wire
Male and Female Plugs - 120 Volt - Christmas Lite Co. 50M5-6GGR
Wire Gauge: 22 AWG
Wattage: 4.8 Watt
Lighted Length: 24.5 ft.
Case Quantity: 24

LED Christmas String Lights - 24 ft. - (70) Wide Angle Green LED's - 4 in. Bulb Spacing - Green Wire
Male and Female Plugs - 120 Volt - Christmas Lite Co. 70WA-4GG
Wire Gauge: 20 AWG
Wattage: 4.8 Watt
Lighted Length: 23 ft.
Case Quantity: 25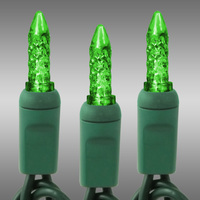 LED Christmas String Lights - 24 ft. - (70) Faceted Green Mini Light LED's - 4 in. Bulb Spacing - Green Wire
Male and Female Plugs - 120 Volt - Christmas Lite Co. 41614
Wire Gauge: 22 AWG
Wattage: 4.8 Watt
Lighted Length: 23 ft.
Case Quantity: 25

Using less energy than incandescent strings, green LED outdoor Christmas lights last longer. These string lights are cool to the touch when lit and the lower wattage allows you to connect more strings together for creating longer runs. Green LED string lights use single piece molded construction to protect the sockets against dirt and water. This means individual bulbs are not replaceable as you may be used to with incandescent strings. However, it also means that your Christmas lights are outdoor rated for snow, rain, or shine. The string will stay lit even if a single bulb fails. You can tuck the bulb a little further into the tree and the rest won't be affected. You could also repair around it using LED testers and repair "PODs" to maintain the electrical balance of the string.
Where Can I Use Green LED String Lights?
Green LED Christmas string lights can be used through the year for a wide variety of applications, and are available in black and green wire options. Hang lights in doorways to decorate for a St. Patrick's Day party or drape over Halloween decorations for a spooky vibe. For Christmas, use these green LED string lights to highlight greenery such as topiaries, wreaths, and garland. Own a business? Light up columns on your restaurant porch to bring some holiday cheer to your diners.
No Christmas tree? No problem. We love hearing from customers who use our products in unique ways. Barry from West Virginia used 10 sets of green Christmas lights to create a Christmas tree. He attached the strings to the top of a flagpole and ran them down to the ground. You can do something similar with wide angle lights that make the light brighter from all angles or use multi-directional green LED mini lights for a twinkle effect when the wind blows. For a softer light, look for faceted traditional mini lights with a prismatic pattern etched into the cap.