Incandescent Curtain Lights | Multiple Plug-In

(35) Bulbs - (1) Curtain Strand
Clear Mini Lights - 17 ft. Length - 6 in. Bulb Spacing - White Wire - Light Bar Sold Separately
Bulb Color: Clear
Wire Color: White
Wattage: 14 Watt
Voltage: 120
Connection: Male Only
Total String Length: 17.5 ft.
Bulb Spacing: 6 in.
Bulbs Per String: 35
Case Quantity: 12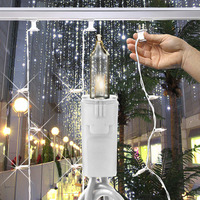 (50) Bulbs - (1) Curtain Strand
Clear Mini Lights - 25 ft. Length - 6 in. Bulb Spacing - White Wire - Light Bar Sold Separately
Bulb Color: Clear
Wire Color: White
Wattage: 20 Watt
Voltage: 120
Connection: Male Only
Total String Length: 25 ft.
Bulb Spacing: 6 in.
Bulbs Per String: 50
Case Quantity: 12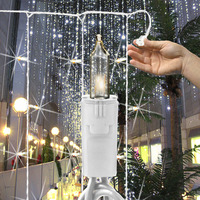 (100) Bulbs - Curtain Light - (5) Drops - Clear Mini Lights
3 ft. Length - 6 in. Drop Spacing - White Wire - Light Bar Sold Separately
Bulb Color: Clear
Wire Color: White
Wattage: 48 Watt
Voltage: 120
Connection: Male to Female
Total String Length: 3 ft.
Bulb Spacing: 6 in.
Bulbs Per String: 100
Case Quantity: 12


(100) Bulbs - (1) Curtain Strand
Clear Mini Lights - 50 ft. Length - 6 in. Bulb Spacing - White Wire - Light Bar Sold Separately
Bulb Color: Clear
Wire Color: White
Wattage: 40 Watt
Voltage: 120
Connection: Male Only
Total String Length: 50 ft.
Bulb Spacing: 6 in.
Bulbs Per String: 100
Case Quantity: 12


(100) Bulbs - (1) Twinkling Curtain Strand
Clear Mini Lights - 50 ft. Length - 6 in. Bulb Spacing - White Wire - Light Bar Sold Separately
Bulb Color: Clear
Wire Color: White
Wattage: 40 Watt
Voltage: 120
Connection: Male Only
Total String Length: 50 ft.
Bulb Spacing: 6 in.
Bulbs Per String: 100
Case Quantity: 12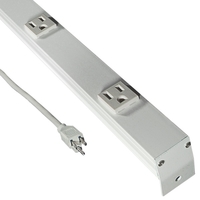 Curtain Strand Light Bar
12 Outlets - 6 ft. Length - White - 120 Volt
Color: White
Voltage: 120
Number of Outlets: 12
Length Ft: 6 ft.
Case Quantity: 4

Incandescent Curtain Lights | Multiple Plug-In
Incandescent curtain lights are a type of decorative lighting that consist of a string of small, closely spaced incandescent bulbs arranged in a vertical configuration, designed to resemble a curtain. These lights are commonly used for creating a festive atmosphere in homes, gardens, commercial spaces, and outdoor events.
Incandescent curtain lights can have up to 100 bulbs per sting and are available in a variety of lengths. Some lights come as a single strand, while others can have multiple vertical drops of lights spaced out along a horizontal strand. These decorative lights can be hung in a variety of ways, including on walls, ceilings, and doorways. They are often used to decorate for holidays, weddings, parties, and other special occasions. One of the advantages of incandescent curtain lights is their simplicity and ease of use. They can be easily plugged into an electrical outlet and hung up without the need for any special installation or wiring.
Order your incandescent curtain lights today!