LED C6 Lights | LED Mini Cone Christmas Lights

12 ft. - Multi-Color - LED C6 Christmas String Lights - 35 Bulbs
Green Wire - 4 in. Spacing - 80 Max. Connections - Commercial Grade
Bulb Color: Multi-Color
Wire Gauge: 22 AWG
Wattage: 2.4 Watt
Lighted Length: 11.33 ft.
Bulbs Per String: 35
Case Quantity: 24


24 ft. - Warm White Deluxe - LED C6 Christmas String Lights - 70 Bulbs
Green Wire - 4 in. Spacing - 45 Max. Connections - Commercial Grade
Bulb Color: Warm White Deluxe
Wire Gauge: 22 AWG
Wattage: 4.8 Watt
Lighted Length: 23 ft.
Bulbs Per String: 70
Case Quantity: 25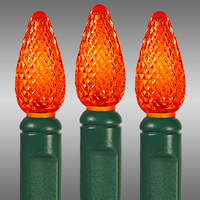 24 ft. - Amber - LED C6 Christmas String Lights - 70 Bulbs
Green Wire - 4 in. Bulb Spacing - 45 Max. Connections - Commercial Grade
Bulb Color: Amber-Orange
Wire Gauge: 22 AWG
Wattage: 4.8 Watt
Lighted Length: 23 ft.
Bulbs Per String: 70
Case Quantity: 25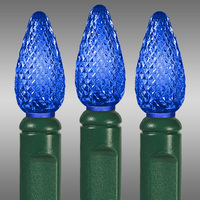 24 ft. - Blue - LED C6 Christmas String Lights - 70 Bulbs
Green Wire - 4 in. Spacing - 45 Max. Connections - Commercial Grade
Bulb Color: Blue
Wire Gauge: 22 AWG
Wattage: 4.8 Watt
Lighted Length: 23 ft.
Bulbs Per String: 70
Case Quantity: 25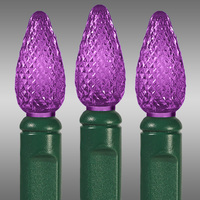 24 ft. - Purple - LED C6 Christmas String Light - 70 Bulbs
Green Wire - 4 in. Spacing - 45 Max. Connections - Commercial Grade
Bulb Color: Purple
Wire Gauge: 22 AWG
Wattage: 4.8 Watt
Lighted Length: 23 ft.
Bulbs Per String: 70
Case Quantity: 25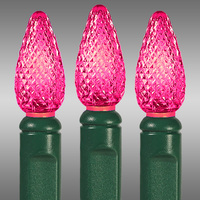 24 ft. - Pink - LED C6 Christmas String Lights - 70 Bulbs
Green Wire - 4 in. Spacing - 45 Max. Connections - Commercial Grade
Bulb Color: Pink
Wire Gauge: 22 AWG
Wattage: 4.8 Watt
Lighted Length: 23 ft.
Bulbs Per String: 70
Case Quantity: 25


24 ft. - Green - LED C6 Christmas String Lights - 70 Bulbs
Green Wire - 4 in. Spacing - 45 Max. Connections - Commercial Grade
Bulb Color: Green
Wire Gauge: 22 AWG
Wattage: 4.8 Watt
Lighted Length: 23 ft.
Bulbs Per String: 70
Case Quantity: 25


24 ft. - Red - LED C6 Christmas String Lights - 70 Bulbs
Green Wire - 4 in. Spacing - 45 Max. Connections - Commercial Grade
Bulb Color: Red
Wire Gauge: 22 AWG
Wattage: 4.8 Watt
Lighted Length: 23 ft.
Bulbs Per String: 70
Case Quantity: 25


24 ft. - Warm White - LED C6 Christmas String Lights - 70 Bulbs
Green Wire - 4 in. Spacing - 45 Max. Connections - Commercial Grade
Bulb Color: Warm White
Wire Gauge: 22 AWG
Wattage: 4.8 Watt
Lighted Length: 23 ft.
Bulbs Per String: 70
Case Quantity: 25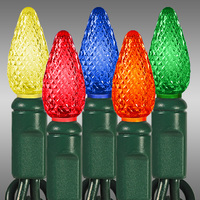 24 ft. - Multi-Color - LED C6 Christmas String Lights - 70 Bulbs
Green Wire - 4 in. Spacing - 45 Max. Connections - Commercial Grade
Bulb Color: Multi-Color
Wire Gauge: 22 AWG
Wattage: 4.8 Watt
Lighted Length: 23 ft.
Bulbs Per String: 70
Case Quantity: 25


24 ft. - Pure White - LED C6 Christmas String Light - 70 Bulbs
Green Wire - 4 in. Spacing - 45 Max. Connections - Commercial Grade
Bulb Color: Pure White
Wire Gauge: 22 AWG
Wattage: 4.8 Watt
Lighted Length: 23 ft.
Bulbs Per String: 70
Case Quantity: 24
Reliable String Lights for Indoor and Outdoor Displays
LED Christmas lights are brighter than their incandescent equivalents while using less power, so you can make the most of your holiday decorations without breaking the bank or blowing a fuse. With colors from pure white to green and pink, our LED C6 string lights are an excellent addition to your indoor and outdoor Christmas decor this year. All of our LED string lights are single piece molded construction, meaning the bulbs cannot be replaced. This protects from water invading the sockets, making them safe for outdoor use. Because our C6 string lights are fully rectified, if one bulb goes out, the others will stay lit.
C6 Light Bulb Color Options
Choose from a variety of color options, including multi-colored lights for festive outdoor decorations that are sure to get your home noticed. We also sell multiple shades of white string lights so be careful not to mix them up if you want your lights to match. Unlike the traditional warm white lights that are around 3000 Kelvin in color, the pure white lights are cooler in color, bordering on blue, around 4000 Kelvin. Our champagne light strings are even warmer with a color temperature around 2200 Kelvin. Please note that our purple lights tend to appear closer to red than blue on the purple scale.