LED Ready Wraparound Fixtures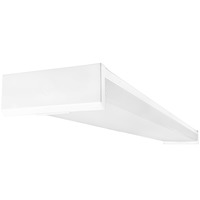 4 ft. Wraparound Fixture - LED Ready
Operates (2) 4' Single-Ended or Double-Ended Direct Wire LED T8 Lamps (Sold Separately) - 120-277V
This LED wraparound fixture is ready to be paired with compatible T8 LED lamps. With a UL damp rating this fixture is ideal for bathrooms, warehouses, and more industrial or commercial buildings.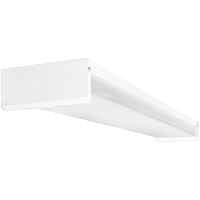 4 ft. Wraparound Fixture - LED Ready
Operates (2) 4' Single-Ended or Double-Ended Direct Wire T8 Lamps (Sold Separately) - 120-277 Volt - PLT Solutions - PLT-90180
Illuminate your indoor space with this energy-efficient LED ready wraparound fixture from PLT Solutions. This versatile fixture is perfect for a variety of indoor settings including offices, hallways, and garages.


LED Ready Wraparound Fixtures
LED ready wraparound fixtures are designed to work with direct wire LED tubes, which means they are not sold with LED bulbs included. This allows for greater flexibility in terms of the type and quality of light output, as well as the potential for energy savings through the use of energy-efficient LED tubes. Some common features of LED ready wraparound fixtures may include:
A durable housing made from materials such as steel or aluminum
A frosted or prismatic lens to diffuse light and reduce glare
Quick and easy installation with surface mounting
The ability to be used with different types of direct wire LED tubes, including those with different color temperatures, lumen outputs, and single or double-ended wiring types
LED-ready wraparound fixtures are widely used in various commercial and industrial applications due to their versatility and cost-effectiveness. These fixtures are commonly used in retail stores, warehouses, factories, parking garages, and offices, among other settings. They provide bright, uniform lighting that enhances visibility and safety while also reducing energy costs.
Overall, LED-ready wraparound fixtures offer a versatile and energy-efficient lighting solution for a wide range of commercial and industrial settings.