Total String Length (Feet)
Hide
Bulb Spacing (Inches)
Hide
Purple Christmas LED Mini Light Strings

LED Christmas String Lights - 17 ft. - (50) Wide Angle Purple LED's - 4 in. Bulb Spacing - Green Wire
Male and Female Plugs - 120 Volt - HLS 45512R-PB24
Wire Gauge: 22 AWG
Wattage: 4.8 Watt
Lighted Length: 16.3 ft.
Case Quantity: 24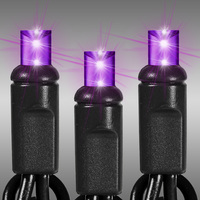 LED Christmas String Lights - 25 ft. - (50) Wide Angle Purple LED's - 6 in. Bulb Spacing - Black Wire
Male and Female Plugs - 120 Volt - Christmas Lite Co. 5MM50P-B
Wire Gauge: 22 AWG
Wattage: 4.8 Watt
Lighted Length: 24.5 ft.
Case Quantity: 25


LED Christmas String Lights - 25 ft. - (50) Multi-Directional Purple LED's - 6 in. Bulb Spacing - Green Wire
Male and Female Plugs - 120 Volt - Christmas Lite Co. 10762
Wire Gauge: 22 AWG
Wattage: 4.8 Watt
Lighted Length: 24.5 ft.
Case Quantity: 24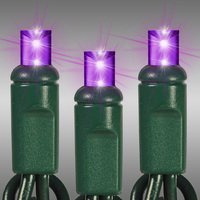 LED Christmas String Lights - 25 ft. - (50) Wide Angle Purple LED's - 6 in. Bulb Spacing - Green Wire
Male and Female Plugs - 120 Volt - Christmas Lite Co. 39-319-89
Wire Gauge: 22 AWG
Wattage: 4.8 Watt
Lighted Length: 24.5 ft.
Case Quantity: 24
Outlasting comparable incandescent strings, these purple LED string lights are more energy efficient. More strings can be connected together to create longer runs due to the lower wattage, and the bulbs are cool to the touch when lit. Unlike incandescent strings, purple LED string lights are a single molded piece construction to keep water from entering the sockets. This allows the stings to withstand most weather conditions, but means that the bulbs cannot be replaced. In the chance that a bulb does go out, the string is fully rectified and will remain lit.
How Purple are These LED Mini Lights?
Because the only way to achieve a deep violet color is with black light, all purple Christmas lights skew more towards red on the red-purple-blue scale. Keep in mind that color is subjective. Though closer to purple than pink bulbs, once lit many customers consider these lights to give off a pinkish glow.
Where to Use Purple LED String Lights
Purple LED Christmas lights can be used indoors and outdoors for adding color to any occasion. Nestle green wire lights into greenery such as shrubs and topiaries. Place black wire lights around tombstones to create an eerie vibe at Halloween. Use purple LED holiday lights with a white wire to make a lit tulle garland for weddings and other events. For a classic look with a soft light, look for strings with faceted traditional bulbs with a prismatic pattern etched into the cap. Shimmering spot bulbs have a curved design that provides a twinkling effect when the sways in the breeze. Designed with a concave lens, wide angle bulbs emit light in all directions for a brighter appearance that can be seen from any viewing angle.