Red LED Christmas Mini Lights
LED Christmas String Lights - 17 ft. - (50) Wide Angle Red LED's - 4 in. Bulb Spacing - White Wire
Male and Female Plugs - 120 Volt - SHL 1100056
Wire Gauge: 22 AWG
Wattage: 2.4 Watt
Lighted Length: 16.3 ft.
Case Quantity: 25


LED Christmas String Lights - 17 ft. - (50) Wide Angle Red LED's - 4 in. Bulb Spacing - Green Wire
Male and Female Plugs - Rolled Contractor Pack - Case of 24 - 120 Volt - Christmas Lite Co. CMS-10078
Bulb Shape: 5mm Wide Angle
Wire Gauge: 22 AWG
Wattage: 2.4 Watt
Connection: Male to Female
Lighted Length: 16.67 ft.
Bulbs Per String: 50
Max. Connections: 90 Sets
Case Quantity: 24
Sold only by the Case of 24 for $302.58
CMS-10078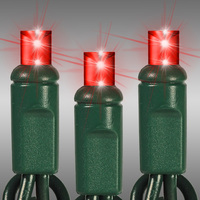 LED Christmas String Lights - 17 ft. - (50) Wide Angle Red LED's - 4 in. Bulb Spacing - Green Wire
Male and Female Plugs - 120 Volt - Christmas Lite Co. 45502R-PB24
Wire Gauge: 22 AWG
Wattage: 2.4 Watt
Lighted Length: 16.3 ft.
Case Quantity: 24

LED Christmas String Lights - 18 ft. - (50) Wide Angle Red LED's - 4 in. Bulb Spacing - Brown Wire
Male and Female Plugs - 120 Volt - Christmas Lite Co. 50L-5MM-4BRRD
Wire Gauge: 22 AWG
Wattage: 2.4 Watt
Lighted Length: 16.67 ft.
Case Quantity: 25


LED Christmas String Lights - 13 ft. - (50) Wide Angle Red LED's - 2.5 in. Bulb Spacing - Brown Wire
Male and Female Plugs - 120 Volt - Christmas Lite Co. 50L-5MM-2.5BRRD
Wire Gauge: 22 AWG
Wattage: 2.4 Watt
Lighted Length: 12.5 ft.
Case Quantity: 25


LED Christmas String Lights - 26 ft. - (50) Wide Angle Red LED's - 6 in. Bulb Spacing - Green Wire
Male and Female Plugs - Rolled Contractor Pack - Case of 24 - 120 Volt - Christmas Lite Co. CMS-10083
Bulb Shape: 5mm Wide Angle
Wire Gauge: 22 AWG
Wattage: 2.4 Watt
Connection: Male to Female
Lighted Length: 25 ft.
Bulbs Per String: 50
Max. Connections: 90 Sets
Case Quantity: 24
Sold only by the Case of 24 for $332.74
CMS-10083


LED Christmas String Lights - 26 ft. - (50) Wide Angle Red LED's - 6 in. Bulb Spacing - Brown Wire
Male and Female Plugs - Rolled Contractor Pack - Case of 24 - 120 Volt - Christmas Lite Co. CMS-10027
Bulb Shape: 5mm Wide Angle
Wire Gauge: 22 AWG
Wattage: 2.4 Watt
Connection: Male to Female
Lighted Length: 25 ft.
Bulbs Per String: 50
Max. Connections: 90 Sets
Case Quantity: 24
Sold only by the Case of 24 for $332.74
CMS-10027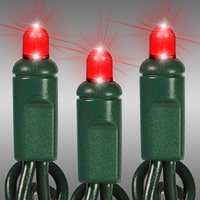 LED Christmas String Lights - 25 ft. - (50) Multi-Directional Red LED's - 6 in. Bulb Spacing - Green Wire
Male and Female Plugs - 120 Volt - Christmas Lite Co. 10704
Wire Gauge: 22 AWG
Wattage: 2.4 Watt
Lighted Length: 24.5 ft.
Case Quantity: 24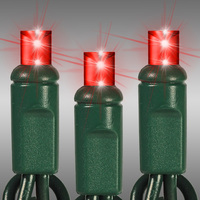 LED Christmas String Lights - 25 ft. - (50) Wide Angle Red LED's - 6 in. Bulb Spacing - Green Wire
Male and Female Plugs - 120 Volt - Christmas Lite Co. 39-322-89
Wire Gauge: 22 AWG
Wattage: 2.4 Watt
Lighted Length: 25 ft.
Case Quantity: 25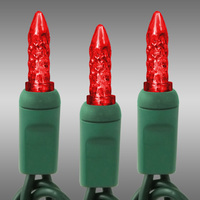 LED Christmas String Lights - 25 ft. - (50) Faceted Red Mini Light LED's - 6 in. Bulb Spacing - Green Wire
Male and Female Plugs - 120 Volt - Christmas Lite Co. 50M5-6GRD
Wire Gauge: 22 AWG
Wattage: 2.4 Watt
Lighted Length: 24.5 ft.
Case Quantity: 24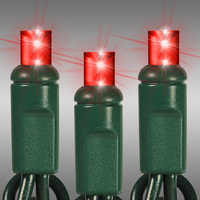 LED Christmas String Lights - 24 ft. - (70) Wide Angle Red LED's - 4 in. Bulb Spacing - Green Wire
Male and Female Plugs - 120 Volt - Christmas Lite Co. 45602
Wire Gauge: 22 AWG
Wattage: 4.8 Watt
Lighted Length: 23.67 ft.
Case Quantity: 25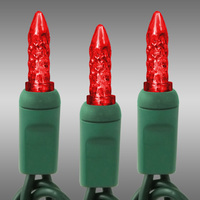 LED Christmas String Lights - 24 ft. - (70) Faceted Red Mini Light LED's - 4 in. Bulb Spacing - Green Wire
Male and Female Plugs - 120 Volt - Christmas Lite Co. 41602
Wire Gauge: 22 AWG
Wattage: 4.8 Watt
Lighted Length: 23 ft.
Case Quantity: 25

Compared to incandescent string lights, these red string lights use less energy and last longer. LED red Christmas lights are cool to the touch when lit and are able to withstand colder temperatures. In order to keep water from entering the sockets, these red Christmas lights are single piece molded construction. While the bulbs cannot be replaced, the string will stay lit if a bulb goes out. You can also repair around a failed lamp using LED light testers and "PODs".
Bulb Shapes
Red LED Christmas lights are available with several different bulb shapes. Wide angle bulbs are designed with a conical lens to disperse the light in a wide beam pattern. This allows the light to be seen from all directions. For a softer light, look for LED red Christmas lights with faceted traditional shaped bulbs. These bulbs have the same shape as the incandescent mini lights you grew up with, but with a prismatic pattern cut into the cap. Enjoy a twinkling effect with shimmering spot bulbs. The curved design of these bulbs makes the light appear to go on and off as the light gently sways.
Where to Use LED Red Christmas Lights
Red LED Christmas lights can be used for any number of indoor and outdoor applications. Pair these lights with white LED mini lights to make columns and posts look like candy canes. Hang sets around a room to create a romantic mood for Valentine's Day or as eerie lighting for Halloween. Make sure to protect any electrical connections with power cord protectors when using red LED Christmas lights outdoors.
For less noticeable wires, make sure to consider the wire color. Lights with green wire can be nestled discreetly into shrubs, wreaths, and other types of greenery. If you want your lights to blend in on fences and tree trunks, look for lights that have brown wire. White wire is ideal for decorating weddings, and can also be clipped to white gutters or woodwork.
Not sure how many strings of red LED Christmas lights you need to complete your display? Speak with one of our helpful lighting experts toady at 1-800-624-4488!