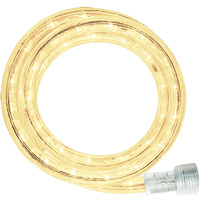 12 ft. - LED Rope Light - Warm White - (Clear)
120 Volt - Includes Easy Installation Kit - Signature LED-13MM-WW-12KIT
Dimmable: No
Life Hours: 60,000
Voltage: 120
Bulbs Per Foot: 12
Chasing: No
Flashable: Yes
Maximum Run: 192 ft. (16 Strands)
Watts Per Foot: 1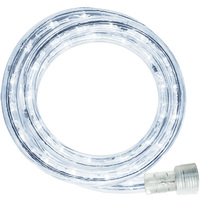 LED - 12 ft. - Rope Light - Cool White
120 Volt - Includes Easy Installation Kit - Signature LED-13MM-CW-12KIT
Dimmable: No
Life Hours: 100,000
Voltage: 120
Bulbs Per Foot: 12
Chasing: No
Flashable: Yes
Connection: 2 Wire
Maximum Run: 192 ft. (16 Strands)
Watts Per Foot: 0.8




18 ft. - LED Rope Light - Cool White
120 Volt - Includes Easy Installation Kit - Clear Tubing with Cool White LEDs - Signature LED-13MM-CW-18KIT
Dimmable: No
Life Hours: 100,000
Voltage: 120
Bulbs Per Foot: 11
Chasing: No
Flashable: Yes
Connection: 2 Wire
Maximum Run: 180 ft. (10 Strands)
Watts Per Foot: 0.8




18 ft. - LED Rope Light - Warm White - (Clear)
120 Volt - Includes Easy Installation Kit - Signature LED-13MM-WW-18KIT
Dimmable: No
Life Hours: 60,000
Voltage: 120
Bulbs Per Foot: 11
Chasing: No
Flashable: Yes
Maximum Run: 180 ft. (10 Strands)
Watts Per Foot: 1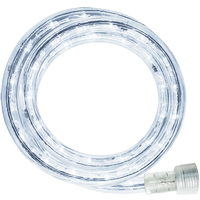 24 ft. - LED Rope Light - Cool White
120 Volt - Includes Easy Installation Kit - Clear Tubing with Cool White LEDs - Signature LED-13MM-CW-24KIT
Dimmable: No
Life Hours: 100,000
Voltage: 120
Bulbs Per Foot: 11
Chasing: No
Flashable: Yes
Connection: 2 Wire
Maximum Run: 192 ft. (8 Strands)
Watts Per Foot: 0.8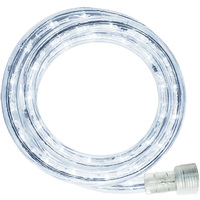 LED - 30 ft. - Rope Light - Cool White
120 Volt - Includes Easy Installation Kit - Signature LED-13MM-CW-30KIT
Dimmable: No
Life Hours: 60,000
Voltage: 120
Bulbs Per Foot: 12
Chasing: No
Flashable: Yes
Maximum Run: 180 ft. (6 Strands)
Watts Per Foot: 1




30 ft. - LED Rope Light - Red
120 Volt - Includes Easy Installation Kit - Clear Tubing with Red LEDs - Signature LED-13MM-RE-30KIT
Dimmable: No
Life Hours: 100,000
Voltage: 120
Bulbs Per Foot: 12
Chasing: No
Flashable: Yes
Watts Per Foot: 0.48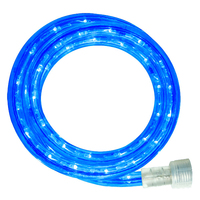 30 ft. - LED Rope Light - Blue
120 Volt - Includes Easy Installation Kit - Clear Tubing with Blue LEDs - Signature LED-13MM-BL-30KIT
Dimmable: No
Life Hours: 100,000
Voltage: 120
Bulbs Per Foot: 12
Chasing: No
Flashable: Yes
Maximum Run: 180 ft. (6 Strands)
Watts Per Foot: 1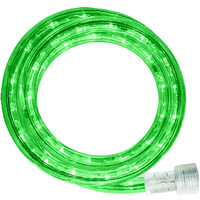 LED - 30 ft. - Rope Light - Green
120 Volt - Includes Easy Installation Kit - Signature LED-13MM-GR-30KIT
Dimmable: No
Life Hours: 100,000
Voltage: 120
Bulbs Per Foot: 12
Chasing: No
Flashable: Yes
Maximum Run: 180 ft. (6 Strands)
Watts Per Foot: 0.8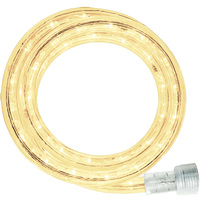 30 ft. - LED Rope Light - Warm White - (Clear)
120 Volt - Includes Easy Installation Kit - Signature LED-13MM-WW-30KIT
Dimmable: No
Life Hours: 60,000
Voltage: 120
Bulbs Per Foot: 12
Chasing: No
Flashable: Yes
Maximum Run: 180 ft. (6 Strands)
Watts Per Foot: 1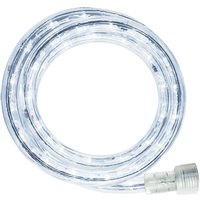 51 ft. - LED Rope Light - Cool White
120 Volt - Includes Easy Installation Kit - Clear Tubing with Cool White LEDs - Signature LED-13MM-CW-51KIT
Dimmable: No
Life Hours: 100,000
Voltage: 120
Bulbs Per Foot: 11
Chasing: No
Flashable: Yes
Connection: 2 Wire
Maximum Run: 153 (3 Strands)
Watts Per Foot: 0.8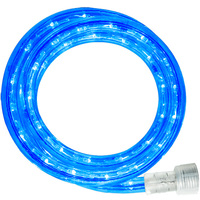 51 ft. - LED Rope Light - Blue
120 Volt - Includes Easy Installation Kit - Clear Tubing with Blue LEDs - Signature LED-13MM-BL-51KIT
Voltage: 120
Chasing: No
Flashable: Yes
Connection: 2 Wire
Watts Per Foot: 0.8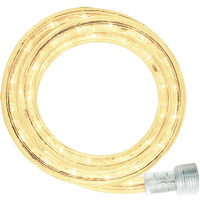 51 ft. - LED Rope Light - Warm White - (Clear)
120 Volt - Includes Easy Installation Kit - Signature LED-13MM-WW-51KIT
Dimmable: No
Life Hours: 60,000
Voltage: 120
Bulbs Per Foot: 11
Chasing: No
Flashable: Yes
Maximum Run: 153 (3 Strands)
Watts Per Foot: 1




Complete Rope Lighting Kits
These all-in-one rope light kits are a quick and easy way to add dramatic lighting to any indoor or outdoor space. These kits can be interconnected up to 150 feet without the need for splicing or extra tools required. Available in incandescent or LED, clear or colored, you're sure to find the right rope light for your accent, task, or event lighting needs. All of our rope light kits are flashable, and our incandescent rope light kits are dimmable. Each of these kits include 12 clips and screws, 12 tie straps, and one molded power cord.
Color Options for Rope Light Kits
Our selection of rope light kits can be found in a wide variety of colors including green, red, blue, and more. Keep in mind purple lights will typically be closer in hue to pink than blue. While the colors of white rope lights are not measured in Kelvin, we offer three white variations. The warm white rope lights are similar to the white light of traditional incandescent bulbs. Cool white is a bright white light that can appear almost blue. This color is good for task-oriented installations like under cabinet lighting. Pearl white rope lights produce a very warm light in a hue bordering yellow.