Ratings and Certifications
Hide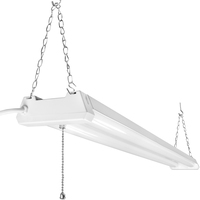 4000 Lumens - 40 Watt - 4000 Kelvin - 4 ft. LED Shop Light
2 Lamp Fluorescent Equal - 120 Volt - PLT Solutions - PLT-11668
Upgrade your workspace lighting with PLT Solutions' 4ft LED Shop Light. With 4000 Lumens, 40 Watt power, and 4000 Kelvin color temperature, it's the perfect 2-lamp fluorescent equal replacement.

Types of LED Shop Lights
Shop lights are a must have for workshops, utility rooms, garages, and other commercial applications. Our LED shop lights have either an on/off pull chain or an on/off switch at one side of the fixture. These fixtures are designed for either suspension or surface mounting and have a plug-in cord that operates on 120-277 Volts with no need for hardwiring. Available in a range of Lumens and wattage options, our heavy-duty shop lights feature high-performance integrated LEDs to eliminate any LED T8 tube and ballast compatibility issues while still delivering years of quality light. Choose from garage lights that are UL or ETL rated for either indoor or outdoor locations. We also carry Energy Star certified shop lights.
Utility and Garage Lighting Recommendations
Garages are typically very dim with an older fluorescent fixture installed above a work bench or hanging from the ceiling in the center of the space. While fluorescent lights can be an adequate way to illuminate your garage, adding low watt, energy efficient LED lighting is an easy way to improve your garage lighting without suffering a major increase to the electricity bill. It's important to have consistent color lighting throughout the space you intend to light. These light fixtures emit a 4000 Kelvin light that has a color output similar to the white light emitted by clear metal halides lamps and is recommended for work spaces because it is specifically designed to reduce eye strain and create a productive work environment. All of our LED shop lights have a color rendering index, or CRI, of 80. This is average for LED lighting and high enough for most utility and garage lighting applications that most individuals cannot tell the difference unless they are looking for it. However, if your work or hobby requires a high CRI, we recommend our LED ready strip lights and high CRI LED T8 lamps.
Some of our LED shop lights, referred to as "industrial style" fixtures, have wings on the sides of the fixture. These wings help direct more light downward making them more suitable for higher ceilings than fixtures without wings. However, if your ceiling is higher than 15-20 feet, these LED shop lights would not be bright enough. In these cases, we recommend using a high bay fixture. Most of our LED shop lights have a lens to give the fixture a more finished look. However, some are designed to look as though there are tubes. The light is unaffected by the design and the choice of which you prefer is based solely of aesthetic preference. Both designs emit an evenly distributed, diffused light to help decrease glare from the LEDs.
Professional garages need fixtures with a higher Lumen output or more fixtures than residential garages. Many of our shop lights can be interconnect with a compatible linking cable that is either included with the fixture or sold separately depending on the manufacturer. The number of fixtures you can connect together will be determined by how many Watts and Volts your chosen shop light needs in order to operate and the circuit they are installed on. Your electrician can determine the exact number of fixtures for a circuit given the supply voltage and the conductors used in your application. You may also consult the spec sheet hyperlinked on the product page for a maximum run limit.
Professional garages can also benefit from shop lights capable of hardwire installation so they can be paired with motion sensors. These sensors turn lighting on when a person enters and back off once a set period of time has passed with no movement in the sensor's range depending on the type used. Occupancy sensors turn the lights on and off automatically, while vacancy sensors will only turn the lights off and need to be turned on manually. Just be sure the motion sensor you plan to purchase is rated for LED lights.
Integrated LED Fixtures vs. LED Ready Fixtures
Fixtures with integrated LEDs have built in LED arrays rather than separate replaceable bulbs. These diodes are designed with a specific Kelvin color temperature and Lumen output when they are built. These types of fixtures tend to have a longer life rating and efficacy rating with compared to LED ready fixtures that use LED T8 bulbs. They also typically consume less energy and run on lower Wattages than light fixtures with replaceable bulbs of similar light output. Since they are an all-in-one system, the compatibility issues typically associated with using LED lights with ballasts are eliminated. For light fixtures with separate, replaceable bulbs, check out our selection of LED and fluorescent strip light fixtures.
Regardless of your unique work area, our talented team of lighting experts can help you find the garage lights you need. Just give us a call at 1-800-624-4488.