Surge Protectors/Arresters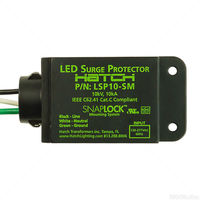 LED Single (Split) Phase Surge Protector - NEMA 3R Indoor/Outdoor Enclosure
Type 4 SPD - Hardwired - 10kV, 10kA Maximum Capacity - 120-277 Volt - Hatch LSP10-SM
Height: 1.2 in.
Width: 1.52 in.



Surge Arrester - 36 in. Leads
Up to 600 Volts Three Phase - Intermatic AG6503L3


AC Single Phase Surge Protector - Type 4 Outdoor Enclosure
Type 2 SPD - Hardwired - 100kA Maximum Capacity - 120-240 Volt - Raycap AC2100-F-NA-07
Height: 2.33 in.
Width: 9.1 in.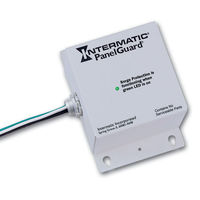 Panel Single (Split) Phase Surge Protector - NEMA 3R Indoor/Outdoor Enclosure
Type 1 or 2 SPD - Hardwired - 50kA Maximum Capacity - 120-240 Volt - Intermatic IG3240-RC3
Height: 6.28 in.
Width: 4.4 in.

Enjoy peace of mind with protection against power line disturbances, voltage spikes, and possible damage and fire hazards with surge protection and surge arresters. Surge protectors protect your home, lights, and appliances by diverting excess electricity to the outlet's ground wires. Surge arresters, on the other hand, divert electricity before the electricity even gets to the building the arrester is mounted on. Options for indoor or outdoor LED drivers and fixtures as well as fluorescent and HID fixtures. Easy one-step mounting and low profile to fit into small spaces.