Total String Length (Feet)
Hide
Bulb Spacing (Inches)
Hide
Yellow - LED - Mini Lights - Christmas Strings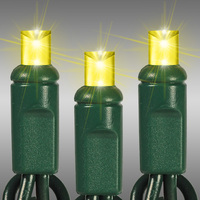 LED Christmas String Lights - 17 ft. - (50) Wide Angle Yellow LED's - 4 in. Bulb Spacing - Green Wire
Male and Female Plugs - 120 Volt - Christmas Lite Co. 45504R-PB24
Wire Gauge: 22 AWG
Wattage: 2.4 Watt
Lighted Length: 16.3 ft.
Case Quantity: 24

LED Christmas String Lights - 17 ft. - (50) Faceted Yellow Mini Light LED's - 4 in. Bulb Spacing - Green Wire
Male and Female Plugs - 120 Volt - Christmas Lite Co. 41504R-PB24
Wire Gauge: 22 AWG
Wattage: 2.4 Watt
Lighted Length: 16.3 ft.
Case Quantity: 25


LED Christmas String Lights - 25 ft. - (50) Wide Angle Yellow LED's - 6 in. Bulb Spacing - Green Wire
Male and Female Plugs - 120 Volt - Christmas Lite Co. 5mm50GLD
Wire Gauge: 22 AWG
Wattage: 2.4 Watt
Lighted Length: 24.5 ft.
Case Quantity: 24
Yellow LED mini light strings save on energy and replacement costs by outlasting and outperforming their incandescent counterparts. Since these lights use less energy, you can connect more strings together to create longer runs. Cool to the touch when lit, yellow LED holiday lights have a few different bulb shapes. For a look similar to incandescent strings with a softer light output, choose faceted traditional strings. For a brighter light that can be seen from any viewing angle, look for strings with wide angle bulbs.
In order to protect the socket from water and dirt, yellow LED mini string lights are designed with a single piece molded construction. This means that bulbs are not replaceable, but if a bulb does go out these strings will stay lit.
Creative Ways to Use Yellow LED String Lights
Delivering a bright glow, yellow LED Christmas lights can be used any time of year for a wide variety of applications. Pair these strings with purple LED holiday lights to create festive lighting for Easter celebrations. Wrap lights around trees and posts for backyard BBQs. Nestle these lights along with amber-orange LED Christmas lights to make a beautiful wreath for autumn or Thanksgiving.