LED Lights and LED Replacement Bulbs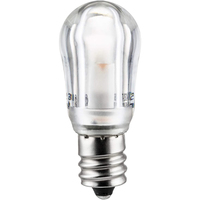 1 Watt - Clear - Indicator LED S6 Light Bulb
Candelabra Base - 120 Volt - Sunlite 41069-SU
Height: 1.85 in.
Diameter: 0.75 in.
Sold only by the 6 Pack for $22.11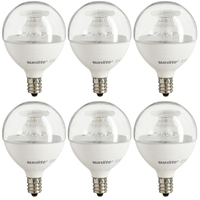 2 in. Dia. - LED G16.5 Globe - 5 Watt - 40 Watt Equal - Incandescent Match
350 Lumens - 2700 Kelvin - Candelabra Base - 120 Volt - 6 Pack - Sunlite 40294-SU
Bulb Shape: G16.5 Globe
Height: 2.9 in.
Sold only by the 6 Pack for $26.45


Benefits of LED Lights
LED light bulbs can save you money not only because they are roughly 80 percent more energy efficient than other bulbs, they also produce far less heat than metal halides, CFLs, and incandescent light bulbs. Upgrading to LED lighting means you won't spend your summer months cooling down rooms that your light bulbs are busy heating up. While originally a cooler blue tone than incandescent bulbs, LEDs now come in daylight and warm white color temperatures so you can more easily replace your existing bulbs without altering the color of your room. Visit our Lighting Guide to see what difference color temperature makes. LED lighting also offers a superior color rendering index (CRI), so you can see the colors of your artwork or makeup more accurately.
LED replacement bulbs are durable and ecologically friendly. Did you know you can recycle LED bulbs and reduce your carbon footprint up to one third? LEDs outlast the competition, staying bright for up to 11 years of continuous operation. This means less time climbing ladders trying to replace those hard to reach bulbs in vaulted ceilings.
LEDs are one of today's most promising technologies.
No mercury, making them a cleaner alternative to fluorescent and CFL lamps.
Life that is 20 times longer than some traditional lighting products.
The lowest energy consumption of any lighting product to date.
Light quality equal or superior to traditional lighting products.
LEDs or Fluorescents - Which is More Efficient?
LED light bulbs for the win! When it comes to purchasing energy-efficient lighting, LEDs surpass CFLs by a wide margin. LEDs are instant-start with no warmup time needed. They work well in cold weather, and are substantially more durable since manufactured out of plastic instead of glass. From standard bulbs to fluorescent tubes, LEDs can replicate the same lighting conditions found in fluorescents while lasting longer and using less energy. As an added bonus, all LEDs are RoHS compliant and do not use mercury, a claim that can't be made by fluorescent bulbs.
LED Lighting Options
Standard Shape A19 - Designed to give the appearance and pattern of a standard incandescent bulb. Standard and A-shape LED bulbs fit the same sockets and fixtures as your current household lights.
3-Way LED - A three-way bulb is a light bulb that has three brightness settings instead of the standard on or off. If your lamp or fixture says it requires a three-way bulb, this is the category for you.
Vintage LED Bulbs- Vintage reproduction bulbs are now available with LED filament. They have a warm orange glow with lower light levels to mimic the style of a vintage bulb on a dimmer as it transitions from yellow to orange. These Edison style and Victorian style bulbs make great collector items. Order yours today to make your own steampunk lighting.
Wet Location LED Bulbs - A wet location UL rating means these LED light bulbs can be used in humid indoor areas or outdoors where water may drop or flow against the bulb or fixture.
Decorative LED Bulbs - Browse LED globe lights ranging from 3 in. to 1.5 in. diameters or find LED replacement bulbs for your chandelier light bulbs. The long life of LEDs mean less time on the ladder changing burnt out bulbs. Many LED chandelier lights are dimmer switch compatible and come in a range of color temperature so you can still enjoy the ambiance of traditional bulbs but the energy savings of LEDs.
LED Tubes - LED tubes are the emerging standard for commercial and household lighting. Ranging in size from T5 to T12 and a variety of color temperatures, these LED tubes are an easy way to upgrade to energy efficient lighting. Some of them work with or without an existing ballast, making the transition to LED lighting easier than ever. These LED tubes emit the same amount of light as fluorescent T8s, while using a fraction of the power and lasting up to three times longer. LED tubes are especially effective in cold areas like refrigeration lockers where fluorescent tubes are less efficient at producing light.
LED Tape Lights - For accents, alcove, and backlighting, LED tape light is a fantastic choice. More flexible than rope light and bright enough for accent illumination, a strip of LED tape light can bring any place to life. There are countless uses and applications for this easily installed new light source.
Reflectors - From the powerful flood and spot lights, to home bound recessed or track lights, reflectors find excellent use indoors or out. LED reflector lamps can provide the same brilliance for less energy and will create far less heat than an incandescent or halogen lamp. As a bonus, they have a higher CRI than fluorescent reflectors for better colors.
Things to Consider When Buying LED Lighting
Equivalent Wattage - While lumens are the new standard, it helps to have an easily recognizable guide. Comparing an LED bulb to an incandescent will give you a rough estimate of just how well it will light a room. As a very ballpark figure for LED wattages, 1/4 or 1/5 the incandescent wattage value is usually close to what you need.
Lumens - Lumens directly measure just how much light the bulb gives out in total. On average, a 60-watt incandescent shines at 800 lumens, with roughly 50-100 lumens of difference above or below. The variance depends on manufacturer and age of the lamp. LEDs are directly rated for their max lumen rating and last much longer without dimming of the bulb.
Color Temperature - Your guide to how the light itself will look. Lower values are warmer, with 2700-3000K being a more incandescent "warm white" while higher temperatures like 5000K will deliver a very harsh "stark white" light. Our Lighting Guide lets you select a color temperature and see how it transforms a kitchen.
Driver Content - Because of their design, LEDs do not typically run on AC voltage. Many LEDs require some form of driver to convert the voltage from AC to DC for proper operation. The majority of socket-based LED lamps are self-driven, but you should always check before buying to make sure that you buy both an LED and a driver at the same time if it isn't self-driven.
Having trouble finding what you need? Shop by application to see additional categories or give us a call at 1-800-624-4488 to speak with an account manager during normal business hours.