15 ft. - White Wire - Christmas Mini Light String - (35) Clear Bulbs - 5 in. Bulb Spacing
Male to Female Connection - Indoor/Outdoor - 120 Volt - Christmas Lite Co. MNL35WCL
Total String Length: 15 ft.
Lighted Length: 14.16 ft.
Lead Length: 5 in.
Tail Length: 5 in.
Bulb Spacing: 5 in.
Bulbs Per String: 35
Max. Connections: 14 Sets
Case Quantity: 100
43 ft. - White Wire - Christmas Mini Light String - (200) Clear Bulbs - 2 in. Bulb Spacing
Male to Female Connection - Indoor/Outdoor - 120 Volt - Christmas Lite Co. 200HDML4CLRW
Lighted Length: 41.66 ft.
Lead Length: 18 in.
Tail Length: 4 in.
Max. Connections: 6 Sets
Case Quantity: 6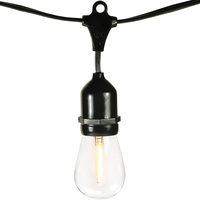 102 ft. Patio String Lights - Black Wire - 50 Suspended Sockets
24 in. Spacing - Male Only - Bulbs Not Included - Christmas Lite Co. LSMS24102BK-F
Wire Color: Black
Wire Gauge: 16 AWG
Maximum Run: 750 Watts
Socket Type: Medium (E26)
Wire Type: SPT-2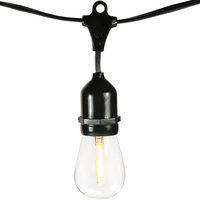 330 ft. Patio String Lights - Black Wire - 165 Suspended Sockets
24 in. Spacing - No End Plugs - Bulbs Not Included - Christmas Lite Co. LSMS24330BK
Wire Color: Black
Wire Gauge: 16 AWG
Maximum Run: 1,250 Watts
Socket Type: Medium (E26)
Wire Type: SPT-2
With a wide selection of incandescent and LED wedding lighting to choose from, you are sure to find the lighting you need for weddings, receptions, and other special events.
Incandescent Mini Lights
Emitting a traditional warm glow, these incandescent mini lights have a white wire and multiple strings can be connected end to end to create long runs. The bulbs of these outdoor wedding lights are replaceable, and each string includes several replacement bulbs. If a bulb goes out, the string will stay lit as long as the bulb is left in the socket. Just make sure to replace the bulb as soon as possible to prevent additional bulbs from burning out. These wedding string lights can be draped from tree branches, wrapped around columns and trees, or hung to create curtain lights for weddings.
LED Mini Lights
LED mini lights deliver a similar light to incandescent strings while producing less heat, making these lights a good choice for adding lights to fabric decorations or wrapping around trees, columns, or arches. These wedding lights come on a white wire and can have different bulb types. Faceted bulbs have a crystal-like pattern etched into the cap to help soften the light. Wide angle bulbs have a concave cap that disperses light in a 180-degree angle, allowing for the light to be seen from all directions. Spot bulbs have a rounded tip that creates a twinkling effect then the string gently sways. These LED wedding string lights do not have replaceable bulbs. The bulbs are a single molded piece construction designed to keep water from invading the sockets when used outdoors. In the event that a bulb does go out, the string will stay lit.
Antique and Vintage Bulbs
Antique and vintage bulbs add a timeless look and feel to your wedding lighting. Available in incandescent or LED options, these beautiful filament bulbs come in a variety of shapes ranging from Edison bulbs to oversized and specialty bulbs. Use these wedding lights in decorative fixtures such as pendants, chandeliers, and wall sconces or in patio light stringers.
Patio Light Stringers
Add stunning accent lighting to indoor and outdoor weddings with patio light strings. These outdoor wedding lights come with white, black, or green wire and in a variety of lengths. For short runs or temporary installations, look for patio light strings with in-line sockets. For permanent installations or longer runs, use strings with suspended sockets. Long runs of wedding lighting should be supported with a guy wire to help prevent sagging. Pair these strings with incandescent or LED bulbs including S14s, globes, and vintage bulbs. Please note that LED bulbs should be wet location rated if being used for an extended amount of time outdoors.
Battery Operated Lights
Add lights in locations where outlets aren't available using these battery operated lights with a white wire. The battery box of these lights can be easily concealed in centerpieces, behind bows, or in potted plants. Choose from incandescent or LED battery operated wedding lights. Incandescent lights have a traditional bulb shape, while LEDs have wide angle bulbs. Battery operated lights are rated for indoor use only. If used outdoors, these wedding string lights need to be taken down once the event is over.
LED Pillar Candles
Enjoy the look and feel of a real candle without the flame and messy wax with these LED pillar candles. These candles operate on batteries and use LEDs to produce a warm flickering glow reminiscent of a flame. Available in assorted heights, LED pillar candles are made from either resin or scented wax. Resin candles are weather resistant and can be used outdoors. Use these candles as part of table light decorations for weddings or place them around the altar.
Planning your big day and are not sure how many wedding lights you need? Get help from one of our lighting experts by call 1-800-624-4488 today!