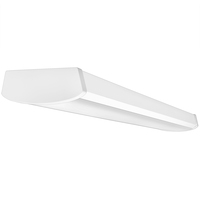 5616 Lumen Max - 48 Watt Max - 4 ft. x 5 in. Wattage and Color Selectable LED Wraparound Fixture
Watts 32-40-48 - Kelvin 3500-4000-5000 - 120-277 Volt - PLT-90297
Upgrade to PLT Solutions' LED wraparound fixture for a versatile and efficient lighting solution. Equipped with a frosted PMMA lens, this fixture is shatter-resistant and non-yellowing.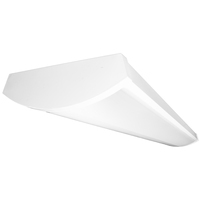 6400 Lumen Max - 54 Watt Max - 4 ft. x 10 in. Wattage and Color Selectable LED Wraparound Fixture
Watts 34-44-54 - Kelvin 3500-4000-5000 - 120-277 Volt - PLT-40054
Illuminate your indoor space with this efficient and reliable LED wraparound fixture from PLT Solutions. With cutting-edge technology and long-lasting performance of up to 50,000 hours, this fixture is long-lasting and reliable.





5400 Lumen Max - 40 Watt Max - 4 ft. x 9 in. Wattage and Color Selectable LED Wraparound Fixture
Watts 30-35-40 - Kelvin 3500-4100-5000 - 120-277 Volt - PLT-55617
Versatile and energy-efficient, PLT Solutions' LED selectable wraparound fixture provides a long lifespan of 50,000 hours. This fixture replaces 9 separate installations and is compatible with 0-10V dimming.




Surface Mount Wraparound Fixtures
Are you looking to replace or add lighting to hallways, basements, or laundry rooms? Install wrap around lights. These lights are recognizable by their one-piece lens that wraps the fixture, diffusing the light output. Surface mounted light fixtures shine light from the sides and down for all around illumination, unlike troffers or panels which are recessed into the ceiling and can only emit light straight down. If you want a more decorative look to match your decor, look for fixtures with scroll work or a rounded "cloud" design. Some fixtures meet Energy Star, Title 24, or DLC certifications and may be eligible for local or state rebates.
Types of Wraparound Fixtures
Wrap around lights are available in LED, LED ready, and fluorescent options. LED wraparound fixtures eliminate the need for fluorescent or LED tubes. These surface mount LED fixtures outlast and outperform fluorescent fixtures, saving money on energy costs. When the LEDs go out, you simply replace the fixture. Some fixtures can be paired with 0-10V dimmer controls.
LED ready fixtures are designed to use single-ended direct wire LED tubes that are sold separately. This allows you to choose the amount of light you want (Lumens) and your desired Kelvin color temperature (color of the light emitted). LED tubes are easy to replace as they go out, saving you from needing to replace the entire fixture.
If you are looking for fixtures that don't have a high upfront cost, consider fluorescent wrap around lights. Available in 2-foot and 4-foot lengths, these fixtures use T8 fluorescent tubes that are sold separately. This allows you to tailor the lighting for a specific room or space. Several fixtures have a more decorative appearance and some can be stem mounted.
Stairwell Fixtures
Upgrade the safety and efficiency of your stairwell lighting with our LED stairwell fixtures with motion sensors! Our fixtures use high-quality LED technology and are equipped with motion sensors, automatically turning on when motion is detected and turning off after a set period of time. With their sleek and modern designs, our LED stairwell fixtures come in various shapes and sizes, making them perfect for any building. They are easy to install and maintain, and can save energy and reduce energy bills while providing bright and safe lighting in stairwells.
Where to Use Wraparound Fixtures and Stairwell Lights
Wraparound fixtures can be used in a variety of locations around your home or business. Fixtures rated for indoor or dry locations should only be used in areas where no water or moisture is present such as offices and retail stores. If you are installing your fixture in stairwells, attics, or other locations where humidity may be present, look for a fixture that is damp location rated. While damp location rated fixtures can't come in direct contact with water, wet location rated fixtures are a good choice for commercial bathrooms and parking garages. Stairwell lights can be surface mounted to a ceiling or wall, stem mounted, or suspended from the ceiling. Rated for damp locations, stairwell lights are suitable for use in areas where moisture or humidity is present. These LED fixtures are commonly used in corridors, workshops, utility rooms, and other areas.
Not sure which type of surface mounted light fixture is right for your application? Speak with a member of our knowledgeable staff at 1-800-624-4488.