Fluorescent Tubes - Linear, Ubend, Circline

Halco 9231 - F13T5/CW - 13 Watt
T5 Linear Fluorescent Tube - 4200 Kelvin
CRI: Standard CRI
Color Temperature: 4000 Kelvin
Life Hours: 6,000
Wattage: 13 Watt
Lumens: 620
Length: 21 in.
Case Quantity: 20

Eiko 15505 - F6T5/CW - 6 Watt
T5 Linear Fluorescent Tube - 4100 Kelvin
CRI: Standard CRI
Color Temperature: 4000 Kelvin
Life Hours: 7,500
Wattage: 6 Watt
Lumens: 295
Lumens (Mean): 235
Length: 9 in.
Case Quantity: 100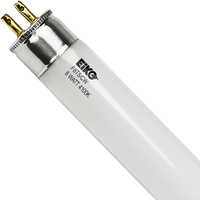 Eiko 15510 - F8T5/CW - 8 Watt
T5 Linear Fluorescent Tube - 4100 Kelvin
CRI: Standard CRI
Color Temperature: 4000 Kelvin
Life Hours: 7,500
Wattage: 8 Watt
Lumens: 400
Lumens (Mean): 320
Length: 12 in.
Case Quantity: 100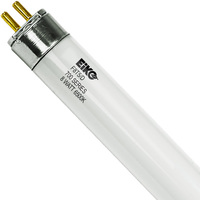 Eiko 15511 - F8T5/D - 8 Watt
T5 Linear Fluorescent Tube - 6500 Kelvin
CRI: Standard CRI
Color Temperature: 6500 Kelvin
Life Hours: 7,500
Wattage: 8 Watt
Lumens: 330
Lumens (Mean): 265
Length: 12 in.
Case Quantity: 100

Eiko 15500 - F4T5/CW - 4 Watt
T5 Linear Fluorescent Tube - 4200 Kelvin
CRI: Standard CRI
Color Temperature: 4000 Kelvin
Life Hours: 6,000
Wattage: 4 Watt
Lumens: 135
Lumens (Mean): 100
Length: 6 in.
Case Quantity: 100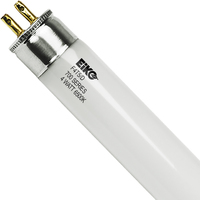 Eiko 15501 - F4T5/D - 4 Watt
T5 Linear Fluorescent Tube - 6500 Kelvin
CRI: Standard CRI
Color Temperature: 6500 Kelvin
Life Hours: 6,000
Wattage: 4 Watt
Lumens: 115
Lumens (Mean): 92
Length: 6 in.
Case Quantity: 100

Eiko 81148 - F14T5/841 - High Efficiency T5s
14 Watt - 4100 Kelvin - 22 in - 1350 Lumens - 800 Series Phosphors
Color Temperature: 4000 Kelvin
Life Hours: 35,000
Wattage: 14 Watt
Lumens: 1,350
Length: 22 in.
Case Quantity: 25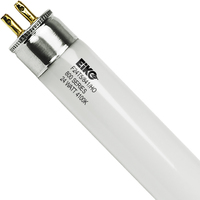 Eiko 81155 - F24T5/841/HO - High Output T5s
24 Watt - 4100 Kelvin - 22 in. - 2000 Lumens - 800 Series Phosphors
Color Temperature: 4000 Kelvin
Life Hours: 35,000
Wattage: 24 Watt
Lumens: 2,000
Length: 22 in.
Case Quantity: 25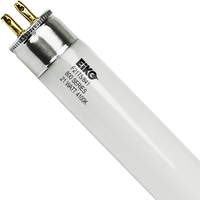 Eiko 81150 - F21T5/841 - High Efficiency T5s
21 Watt - 4100 Kelvin - 34 in. - 2100 Lumens - 800 Series Phosphors
Color Temperature: 4000 Kelvin
Life Hours: 35,000
Wattage: 21 Watt
Lumens: 2,100
Length: 34 in.
Case Quantity: 25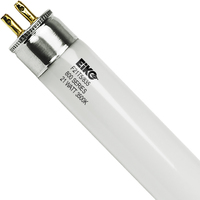 Eiko 81149 - F21T5/835 - High Efficiency T5s
21 Watt - 3500 Kelvin - 34 in. - 2100 Lumens - 800 Series Phosphors
Color Temperature: 3500 Kelvin
Life Hours: 35,000
Wattage: 21 Watt
Lumens: 2,100
Length: 34 in.
Case Quantity: 25

Eiko 81151 - F28T5/835 - High Efficiency T5s
28 Watt - 3500 Kelvin - 46 in. - 2900 Lumens - 800 Series Phosphors - Case of 25
Color Temperature: 3500 Kelvin
Life Hours: 35,000
Wattage: 28 Watt
Lumens: 2,900
Length: 46 in.
Case Quantity: 25
Sold only by the Case of 25 for $144.45


Halco 105520 - F28T5/841/ECO - High Efficiency T5s
28 Watt - 4100 Kelvin - 46 in. - 2900 Lumens - 800 Series Phosphors - Case of 25
Color Temperature: 4000 Kelvin
Life Hours: 20,000
Wattage: 28 Watt
Lumens: 2,900
Length: 46 in.
Case Quantity: 25
Sold only by the Case of 25 for $149.21

Available in straight tubes, circline, or U-bend shapes, these fluorescent lights generate light the same way. Fluorescent tube lights are filled with a mercury-vapor gas. Electric current is passed though the lamp to excite the gas into producing ultraviolet (UV) light that is invisible to the eye. The UV light then causes the coating on the inside of the tube to glow, emitting visible light.
Linear Fluorescent Tubes
Suitable for fluorescent fixtures found in a variety of locations including homes, offices, warehouses, and schools, linear fluorescent tubes range in sizes from T2s up to T12s. These tubes are available multiple lengths and color temperatures, as well as high output and very high output options. If you are not sure what fluorescent tube light is currently in your fixture, measure the diameter. The most popular tubes, T8 fluorescent lights, have a dimeter of 1 inch. T12 fluorescents have a diameter of 1.5 inches, while T5 fluorescent tubes are 0.625 inches in diameter. Wattages are denoted with the letter "F", for fluorescent, followed by the watts. For instance, a T8 fluorescent bulb marked F32T8 uses 32 Watts.
Circline Fluorescent Tubes
Have a compact fixture in your home or business that uses circline lamps? Take a look at these circline fluorescent tubes available in single and double tube options. These lamps have outside diameters ranging from 6 inches to 16 inches. When replacing a circline fluorescent tube, check to see if your fixture requires a specific bulb. If not, make sure that you choose a circline that has the same pin base (2-pin or 4-pin) and bulb type since these bulbs are not interchangeable.
U-bend Fluorescent Tubes
U-bend fluorescent tubes are linear fluorescents that have been shaped into a U. These lamps have either 6 inch or 1.525 inch leg spacing and are designed for 2x2 luminaries. U-bend fluorescent tube light bulbs are suitable for use in various high and low applications such as offices, retail stores, and waiting rooms.
Shatter Resistant Linear and U-bend Fluorescents Tubes
Protect workspaces from broken glass by using shatter resistant and U-bend fluorescent tubes. These lamps are treated with special coatings that keep fragments inside the lamp in the event that the fluorescent tube light bulb is dropped or bumped into, helping reduce the hazard of broken glass. Choose between T5, T8, T12, or U-bend options.
Appliance Fluorescent Tubes
For applications requiring fluorescent tube light bulbs of unusual wattage or length, use appliance fluorescent tubes. These lights can be used in vending machines, jukeboxes, pinball machines, and other applications. If using near food prep areas in restaurant kitchens or food trucks, appliance fluorescent tube lights should be NSF (National Sanitation Foundation) rated.
Fluorescent Tube Guards
Provide added protection for your fluorescent tubes or change the color of the light with fluorescent tube guards. Available in a variety of colors, these guards easily slide over linear fluorescent tube lights to help protect against moisture, dust, and accidental breakage. If your T8 fluorescent bulbs are dimmable, choose a tube guard designed for dimmable lamps. For clean rooms and photo labs, look for UV blocking tubes.
How to Dispose of Fluorescent Tubes
Due to the mercury contained in fluorescent tube lights, these lamps need to be disposed of properly. Improper disposal, such as tossing old lamps in the trash, can release the mercury into the environment. Check with local stores and disposal centers to see if they accept fluorescent tube light bulbs. Some states require that fluorescent tube lights be recycled. To recycle fluorescent tubes, you can take the lamps to your local recycling center or mail the tubes to a recycling center with a linear fluorescent recycling kit.
Not sure which fluorescent tubes lights are the best match for your needs? Our team of lighting experts is here to assist you. Call 1-800-624-4488 today!