LED Downlights - LED Light Fixtures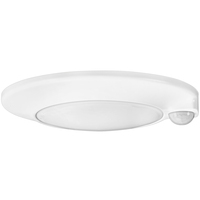 600 Lumens - 10 Watt - 3000 Kelvin - 4 in. LED Closet Light with Motion Sensor
Hardwire - 60 Watt Incandescent Equal - Round - White Trim - 120 Volts - PLT-12409
Illuminate any commercial space with our 4 in. LED Closet Light With Motion Sensor. With 600 Lumens and 3000 Kelvin, this hardwired light is perfect for motion-sensing in closets. Energy-efficient with a 10 Watt power draw that equates to a 60 Watt incandescent. Easy to install, round, and sleek with a white trim.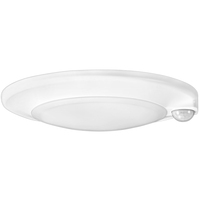 950 Lumens - 15 Watt - 3000 Kelvin - 6 in. LED Closet Light with Motion Sensor
Hardwire - 75 Watt Incandescent Equal - Round - 120 Volt - PLT-12410
Update your commercial closets with PLT's PLT-12410 LED Closet Light. It produces 950 Lumens of warm white light (3000 Kelvin) using only 15 Watts, equivalent to a 75 Watt incandescent bulb. The motion sensor saves energy by turning off the light when the closet is empty. The 6-inch round fixture is hardwired and operates at 120 Volt.





810 Lumens - 10 Watt - Natural Light - 4 in. New Construction LED Downlight Fixture
Hardwire - Kelvin 3000-4000-5000 - 65 Watt Incandescent Equal - Square - White Trim - 90 CRI - 120 Volt - Lithonia Lighting WF4 SQ S LED 30K40K50K 90CRI MW M6
CRI: High CRI (90 and Up)
Outside Diameter: 4.7 in.
Inside Diameter: 2.8 in.
Height: 1.1 in.




LED Can Light Fixtures
Light fixtures that are recessed in the ceiling are called "downlights." Sometimes called "can lights" or "pot lights," retrofit LED downlights can be installed into existing fixtures by removing the original bulb and trim before screwing in an LED module adapter into the socket. Once the power is out to the room, it can take less than two minutes to install your new LED downlight. Watch the video below for step-by-step instructions.
Types of Can Lights
We carry many different types of can lights, including:
LED down lights with medium base adapters are your basic down lights that work with an existing can that you already have in place. You might have an incandescent or halogen light bulb already and you simply want to take that out. Instead of putting an LED light bulb in there, you'll want something that's going to give a little more reflectivity. These down lights have a recess and baffle which takes the palace of the light bulb. If you're a contractor looking to buy down lights for some remodels, these are a perfect solution.
Ultra-thin disk lights do not require a can, so they are a great solution if you're looking to add fixtures to a place where there's not an existing light. A lot of home builders like these lights because they save them the trouble of cutting out holes in the sheetrock in advance. You don't have to put a junction box anywhere when installing these, so they give you a lot more range than comparable fixtures.
Surface mount lights do require a junction box or a can so they're very simple to install. The lens on surface mount lights pops off and you're able to just screw the downlight into the junction box. Put the lens back on and you're good to go. These are available in a variety of color temperatures.
LED downlights with a junction box are another down light option that contractors like. These do not require any sort of recess can and come with a junction box already on top so you can cut your hole wherever you want. The wiring goes directly into the junction box, and the clips hold the light in place once you pop it into the hole.
LED commercial downlights consist of a driver and reflector and require an existing recessed can. During installation, the reflector from the existing can is removed so that the LED downlight takes its place. At 5000K, these are going to give you a nice, crisp white light. Additionally, with 0-10 Volt dimming and 120 to 277 Volt operation, these will work in almost every commercial application.
Downlight engines give you many choices due to their twist-lock modular design that fits perfectly in our 4", 6", 8", and/or 10" trims. The fixtures' trims feature a matte diffuser that conceals the lamp from direct view. The trims' tension clips simplify installation and eliminate the need for a can.
What's the Difference Between IC-rated and Non-IC Rated Recessed Lighting?
The difference between IC rated downlights and non-IC rated downlights is that non-IC rated fixtures require 3 inches of space between the metal and the ceiling insulation. IC rated fixtures have superior heat distribution capabilities, allowing insulation to rest against the metal without being a fire hazard. Remodels are more likely to use non-IC rated recessed lighting whereas IC rated fixtures are primarily used in new construction. However, IC rated downlights can be installed in either insulated or uninsulated ceilings.