LED Downlights - LED Light Fixtures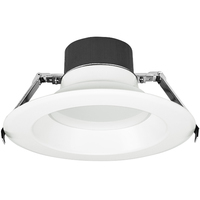 3 Wattages - 3 Lumen Outputs - 5 Colors - Natural Light - 6 in. Selectable New Construction LED Downlight Fixture
Hardwire - Watts 10-15-22 - Lumens 920-1380-1850 - Kelvin 2700-3000-3500-4000-5000 - Halco 88985
CRI: High CRI (90 and Up)
Outside Diameter: 8.23 in.
Inside Diameter: 5.81 in.
Height: 3.98 in.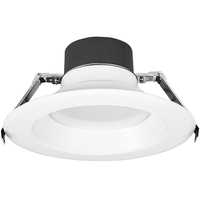 3 Wattages - 3 Lumen Outputs - 5 Colors - Natural Light - 8 in. Selectable New Construction LED Downlight Fixture
Hardwire - Watts 12-20-30 - Lumens 1190-1850-2640 - Kelvin 2700-3000-3500-4000-5000 - Dimmable - 90 CRI - 120-277 Volt - Halco 88986
CRI: High CRI (90 and Up)
Outside Diameter: 10.24 in.
Inside Diameter: 7.32 in.
Height: 4.57 in.







LED Recessed Lighting
Light fixtures that are recessed in the ceiling to shine down on a space are called "downlights." Sometimes called "can lights" or "pot lights," retrofit LED downlights can be installed into existing fixtures by removing the original bulb and trim before screwing in an LED module adapter into the socket. Not only are the LEDs 85% more energy efficient than incandescent bulbs, they produce less heat. This saves additional money on your electricity bill as you'll spend less AC trying to cool a room that your light bulbs are busy heating up. Once the power is out to the room, it can take less than two minutes to install your new LED downlight. Watch the video below for step by step instructions. Since LEDs have much longer lifespans than other bulbs, lasting up to TEN times longer, they will very rarely have to be replaced, saving you the time and energy of purchasing another light bulb for years to come.
What's the Difference Between IC-rated and Non-IC Rated Recessed Lighting?
The difference between IC rated downlights and Non-IC rated downlights is that Non-IC rated fixtures require 3 inches of space between the metal and the ceiling insulation. IC rated fixtures have superior heat distribution capabilities, allowing insulation to rest against the metal without being a fire hazard. Remodels are more likely to use Non-IC rated recessed lighting, making sure to space the insulation accordingly whereas IC rated fixtures are primarily used in new construction. However, IC rated downlights can be installed in either insulated or uninsulated ceilings.