PAR30 LED Light Bulbs, Short Neck

Natural Light - 1000 Lumens - 12 Watt - 3500 Kelvin - LED PAR30 Short Neck Lamp
75 Watt Equal - 25 Deg. Narrow Flood - Halogen - 90 CRI - 120 Volt - Satco S29412
CRI: High CRI (90 and Up)
Height: 3.7 in.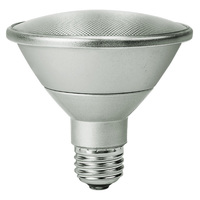 Natural Light - 1000 Lumens - 12 Watt - 2700 Kelvin - LED PAR30 Short Neck Lamp
75 Watt Equal - 25 Deg. Narrow Flood - Soft White - 90 CRI - 120 Volt - Satco S29410
CRI: High CRI (90 and Up)
Height: 3.7 in.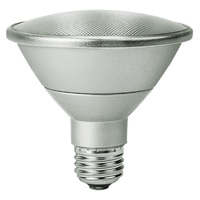 Natural Light - 1000 Lumens - 12 Watt - 3000 Kelvin - LED PAR30 Short Neck Lamp
75 Watt Equal - 25 Deg. Narrow Flood - Halogen - 90 CRI - 120 Volt - Satco S29411
CRI: High CRI (90 and Up)
Height: 3.7 in.




PAR30 LED Watt Equal
PAR30 LED bulbs are an energy efficient replacement for halogen bulbs. To help you find the right replacement, the category is broken out by halogen wattage equivalent. For example, a 120 Watt equal PAR30 LED bulb may only use 18.5 Watts for over 84% energy savings. While the up-front cost of LEDs is higher than halogen bulbs, they need to be replaced far less frequently. With halogen bulbs only lasting 1500 to 2000 hours, an LED PAR30 that lasts 35,000 hours is a worthy investment. You would need to replace a halogen 17-23 times before replacing one LED bulb.
PAR30 Short Neck LED Beam Angles and Color Temperature
PAR shaped bulbs are often used for more controlled directional lighting compared to BR shaped bulbs or for general illumination. PAR30 short neck LEDs give you a wide range of options categorized as follows:
Narrow Spot: less than 10 degree beam angle
Spot: 15 degree beam angle
Narrow Flood: 25 degree beam angle
Flood: 36 degree beam angle
Wide Flood: greater than 50 degree beam angle
Color temperature is a measure of how yellow or blue a light the bulb puts out. This is another advantage of using LED lighting over halogens, which can only produce light in the 3000 Kelvin range. LEDs give you more flexibility to choose how warm or cool a light to use in your displays. Higher Kelvin temperatures appear crisper, brighter, and are on the blue end of the Kelvin scale. Lower Kelvin temperatures are warmer, closer to the light output from a halogen or incandescent bulb. A 3000 Kelvin PAR30 is the closest direct replacement for halogen if you want to keep that familiar look. We recommend 3000 Kelvin and lower for landscape lighting because flowers, grass, and trees will look unnatural under the higher Kelvin light while it matters less for statues and stonework. For display lighting or track lighting, higher temperatures may be used, but we recommend sticking to the lower Kelvin bulbs for recessed lighting or ambient lighting.
High CRI Bulbs
Another measurement that changes the appearance of the light from your bulbs is CRI, a measure of how accurately a light bulb displays colors compared to the midday sun. Bulbs with a higher CRI provide a more vivid light, especially reds and flesh tones. Although LEDs cannot yet match the 100 CRI of halogen bulbs, a CRI of 90 or above is considered excellent. For many applications, especially landscape lighting, a CRI of 80 is enough.
Applications
PAR30 bulbs measure just under 4 inches in diameter allowing them to fit into 4 inch recessed can lights and spotlight fixtures too small for a PAR38 bulb. Short neck bulbs are specially designed for shallow fixtures, so these are often used for track lighting. Most PAR30 bulbs are UL listed for wet locations, meaning they can be used outdoors and do not require protection from direct exposure to water. Look for the Safety Rating in the Specifications of each product page if this is important to you. Many of the bulbs are also dimmable when paired with a compatible LED dimmer. Because not all LEDs work with all LED dimmers, each bulb has a Dimmer Compatibility PDF under Brochures and Spec Sheets so that you can make sure your new lights will work with your existing dimmers.
Need some help finding the right product for your installation? Give one of our lighting experts a call. We'll be happy to walk you through all of your options.