Outdoor, Patio & Landscape Lighting
900 Lumens - 9 Watt - 3000 Kelvin - LED PAR36 Lamp
50 Watt Equal - 120 Deg. Wide Flood - Halogen - 12/24/28V - PLT-11156




MR16 Bullet Head Light - 5.5 Watt
440 Lumens - 42 Watt Halogen Equal - 3000 Kelvin - Length 9 in. - Width 2.4 in. - 9-15 Volt
Bulb Shape: MR16
Life Hours: 30,000
Beam Angle: 40 Degree
Bulbs Included: Yes
Mounting: 1/2" NPT Stake
Length: 9 in.
Width: 2.38 in.
Warranty: 2 Years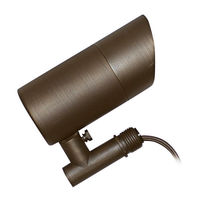 MR16 Specifier Accent Landscape Light - 5.5 Watt
430 Lumens - 42 Watt Halogen Equal - 3000 Kelvin - Length 5.5 in. - Width 2.25 in. - 9-15 Volt
Bulb Shape: MR16
Life Hours: 30,000
Beam Angle: 40 Degree
Bulbs Included: Yes
Mounting: 1/2" NPT Stake
Length: 5.5 in.
Width: 2.25 in.
Warranty: 2 Years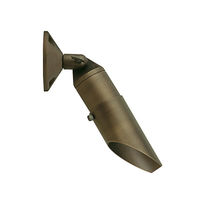 MR16 Bullet Head Light - 5.5 Watt
400 Lumens - 20 Watt Halogen Equal - 3000 Kelvin - Length 5.5 in. - Width 2.4 in. - 9-15 Volt
Life Hours: 30,000
Beam Angle: 45 Degree
Bulbs Included: Yes
Mounting: Wall Mount
Length: 5.5 in.
Width: 2.38 in.
Warranty: 2 Years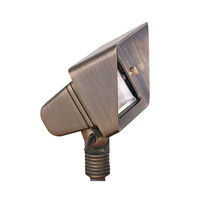 MR16 Wall Wash Landscape Light - 5.5 Watt
440 Lumens - 20 Watt Halogen Equal - 3000 Kelvin - Length 5 in. - Width 10.5 in. - 9-15 Volt
Bulb Shape: MR16
Life Hours: 30,000
Beam Angle: 40 Degree
Bulbs Included: Yes
Mounting: 1/2" NPT Stake
Length: 5 in.
Width: 10.5 in.
Warranty: 2 Years

In daylight, the front of your building is picturesque, the perfect first impression for clients and future employees. Then the sun sets; your building and the beautiful landscaping job that you pay to have maintained fades into the darkness. It doesn't have to be like that. Done well, landscape lighting not only highlights your perfectly trimmed shrubbery, it also calls attention to the building's architectural features, and illuminates pathways for employees leaving after dark.
Low Voltage Landscape Lighting
Most landscape lighting is low-voltage, which is safer to work with and install than 120 Volt systems. While your landscaper should always be aware of buried lines and wires, there's less danger if a weed whacking job goes awry. Thanks to a step-down transformer, the power going to the low-voltage landscape lighting is significantly decreased, but that doesn't stop these lights from making a powerful impact on your building's exterior. Low voltage lighting includes:
in-ground well lights
step lights
path lights
landscape bullets (also available in 120-277 Volt)
Most of the low voltage lighting available on 1000Bulbs.com is used for lighting pathways, but can also be used for garden lighting along flower beds and other architectural designs. Bullets and spot lights have narrow beam angles used to light up focal points. They can be installed in the ground to uplight statues, fountains, flag poles, trees, or your company logo. By using more than one bullet and crossing beams, you can reduce or eliminate shadows to really highlight objects and focal points in your design.
Solar Lighting
Solar energy has taken the outdoor lighting world by storm. Since solar powered landscape lights don't rely on the power grid to operate, the biggest advantage is saving on your energy bill. Keeping wires out of the way for mowers and weed whackers just makes these garden lights even better. These light fixtures require little maintenance and there are some tricks you can learn to maximize their performance:
Place fixtures in a sunny spot with little to no shade throughout the day.
If the solar panel can't face directly up, position it facing north or south. Panels facing east or west will miss out on a half-day's sunlight when the sun is positioned behind the panel as it rises or sets.
Wipe down the solar powered lighting regularly to remove dust and other debris that can reduce the efficacy of light collection during the day.
During the winter months, you may want to use mirrors to increase how much sunlight reaches the solar panels during the short days.
Solar lighting comes in more varieties than you might think. Replace pathway and garden lights in areas that aren't heavily shaded by large trees. Solar spot light fixtures can be used to replace traditional bullet lights for highlighting architectural or garden focal points. 1000Bulbs.com also offered solar bollard lights for entryways and paths. You can even replace post top lamp fixtures and lamp posts with solar landscape lighting.
Using Flood Lights for Wall Grazing
You're probably familiar with wall washing from indoor installations, using track lights to "wash" an entire wall with light, drawing attention to art pieces and keeping the flow of traffic away from the center of a room. While wall washing is done at ceiling height, wall grazing is done from the ground. Though it may sound similar, the desired effect is quite the opposite. Wall grazing accentuates textured surfaces by exaggerating shadows on stone or brick for a more dynamic look.
How to Hang Patio String Lights
Many light bulbs that are used for patio string lights are wet location rated, meaning the string lights can be left up in all weather, so long as protected from direct contact with rain, sprinklers, or other elements. These installations include under deck awnings or under the roof of a gazeebo. To be left uncovered in all weather conditions, you'll need wet location bulbs. For pattern diagrams and installation tips, read our article: How to Hang Patio Lights.
Security Lights
Outdoor lighting isn't just about bringing attention to your shrubs and well-watered flowers. Your exterior lighting design needs security lights in addition to the walkway lighting to help people navigate after dark. These exterior lights can be paired with dusk-to-dawn photocells or timers so that you're only using them as needed and don't have to remember to flip a switch. Many of these fixtures have between 110-360 degree motion sensing capabilities. If you have questions or need help finding something, simply ask our friendly staff for assistance. We're here to help!