5484 Lumens - 48 Watt - 4000 Kelvin - Phillips Slim LED Flood Light Fixture
114 Lumens Per Watt - 250 Watt Metal Halide Equal - Comes with Knuckle and Yoke Mount - 120-277 Volt - Philips PTF50-NW-G1-K-FL-8-BZ
Life Hours: 76,000
Height: 9.49 in.
Width: 7.97 in.
Depth: 1.57 in.
Warranty: 5 Years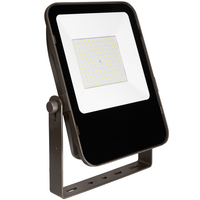 12,400 Lumens - 100 Watt - 4000 Kelvin - Philips Slim LED Flood Light Fixture
124 Lumens Per Watt - 250 Watt Metal Halide - Yoke Mount - 120-277 Volt - Philips PFT100-NW-G1-Y-FL-8-BZ
Life Hours: 76,000
Height: 12.13 in.
Width: 9.15 in.
Depth: 2.28 in.
Warranty: 5 Years


Waterproof LED Flood Light Fixtures
Searching for new waterproof LED flood lights? Look no further! 1000Bulbs.com has the largest selection for you to choose from for even the wettest areas. Peruse line-voltage and low-voltage flood light fixtures for any location. Additionally, since they use LED technology, these lights will save you energy and money over their long-lasting lifespans. In fact, warm white waterproof LED flood lights can last up to 100,000 hours. When you're in need, 1000Bulbs.com is your one-stop shop for the waterproof flood lights you've been hunting for. With fixtures at the lowest prices, we offer the best customer service to assist you with your purchase.