Christmas Light Clips | Tree, Roof, and Gutter Clips

Adhesive Light Clips - For Flat Surfaces
Holds Mini String Lights - Pack of 100
Sold only by the 100 Pack for $9.33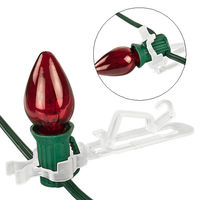 All-in-One Flip Clip - For Shingles and Gutters
Holds C7, C9, Icicle, and Mini String Lights - Pack of 75
Sold only by the 75 Pack for $8.68

All-in-One Universal Light Clip - For Shingles and Gutters
Holds Rope, C7, C9, Icicle, and Mini String Lights - Pack of 50
Sold only by the 50 Pack for $6.97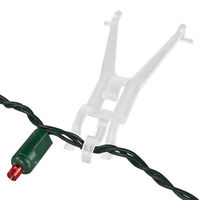 Leaf Screen and Gutter Light Clips
Holds C7, C9, Icicle, and Mini String Lights - Pack of 50
Sold only by the 50 Pack for $9.59


Shingle Speed Tab Light Clips
Holds C6, C7, and C9 String Lights - 50 Pack
Sold only by the 50 Pack for $10.86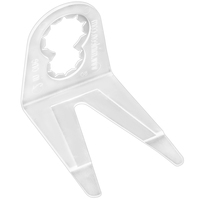 Tab Light Clips - For Shingles
Holds C7 and C9 String Lights - Pack of 50
Sold only by the 50 Pack for $12.48

Parapet Light Clips - For use with Shingle Tab Clips
Holds C7 and C9 String Lights - Pack of 50
Sold only by the 50 Pack for $14.77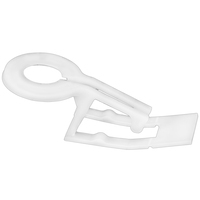 C7 Light Clips - For Gutters and Shingles
Holds C7 String Lights - Pack of 50
Sold only by the 50 Pack for $17.82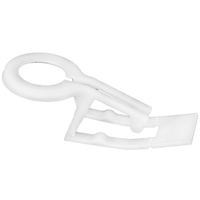 C9 Light Clips - For Gutters and Shingles
Holds C9 String Lights - Pack of 100 - CLIP-10002-100PK
Sold only by the 100 Pack for $44.50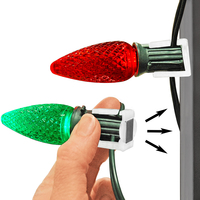 Magnetic Light Clips - Holds C7 or C9 Lights - Pack of 50
For Flat Metal Surfaces - Clear
Sold only by the 50 Pack for $36.28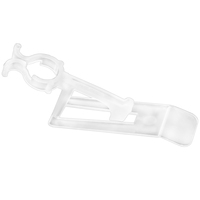 Light Clips - For Shingles and Gutters
Holds C7 and C9 String Lights - Pack of 50
Sold only by the 50 Pack for $7.10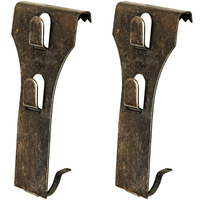 Brick Clips - Max Size
For Hanging Wreaths, Garlands, and Christmas Lights - 2 Pack
Sold only by the 2 Pack for $5.59
Christmas Light Mounting Clips | Tree, Roof, and Gutter Clips
Make your home look festive and beautiful with our Christmas light mounting clips! These essential accessories are designed to hold your lights securely in place, no matter the weather conditions. Made of high-quality plastic or metal, our clips are easy to install and won't damage your roofs or gutters.
When choosing the right clips for your lights, make sure to consider the size and weight of your lights. Our selection of clips is designed to fit all types of surfaces, including trees, roofs, and gutters, so you can create the perfect holiday decoration setup.
Don't settle for flimsy clips that can't withstand the elements. Shop now for the best Christmas light mounting clips and take your holiday decorations to the next level!